Get Some Fun PCH Gifts Here
Ocean Lodge


Cannon Beach, Oregon

 The Ocean Lodge in Cannon Beach, Oregon, is a romantic ocean front accommodation near the Pacific Coast Highway that is pet-friendly and family-friendly too.


It wasn't the best of days to be anywhere along the wild Oregon coast, but we couldn't have picked a better place for a cozy night in than the Ocean Lodge in Cannon Beach, Oregon. 


It's a totally relaxing 1940s-style resort hotel, and though it was cold and wet outside, it was warm and cosy inside with a fire burning in the fireplace, and a smiling welcome from the incredibly helpful staff. We dropped our dripping bags, then I went outside to park the car properly (lots of free parking in and around the hotel), and we headed upstairs to enjoy our room.


The room was lovely, light and spacious, and you can see from our photos just what it was like - nothing fancy, but tastefully done and totally relaxing. There was a big-screen TV with a DVD player, and on a good day there'd be a lovely view from the balcony outside of Haystack Rock, that prominent local feature.


Despite the haze and drizzle people were still out enjoying the beach, lighting bonfires for barbecues, playing with their dogs - the Ocean Lodge is a pet-friendly hotel, and you can walk right out onto the beach from the premises. It doesn't seem like a hotel at all, more like someone's wonderful big home that fronts the street and backs onto the beach.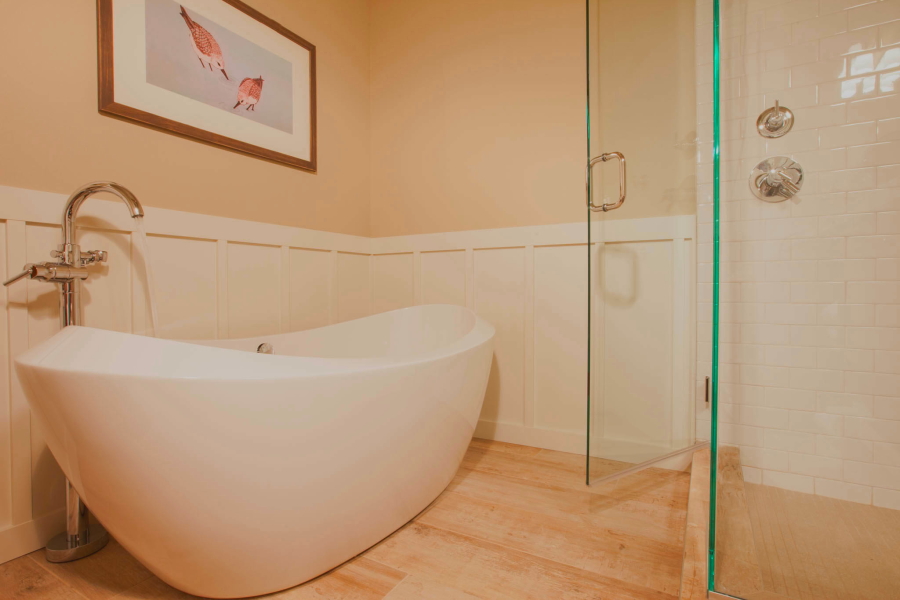 Relaxing at the Ocean Lodge, Cannon Beach
We had a bottle of wine with us so decided to check out the free DVD library in the lobby, where we found it really hard to choose from the long list of movies of all kinds. We borrowed a copy of Hitchcock's The Birds, as we'd recently been in Bodega Bay where it was filmed, and what was then a hot new release I'd been wanting to see: No Country for Old Men. But there was also a large selection of children's movies, as the Ocean Lodge is very family-friendly too. They have a games library as well, and seemingly a constant supply of free cookies.
Dining at the Ocean Lodge in Cannon Beach
The Ocean Lodge has no restaurant, but it's only a short drive into Cannon Beach where there's plenty of choice. After a while the rain had eased off so we asked at the desk if there was anywhere within walking distance. There was, the Warren House Pub at 3301 S. Hemlock Street. It's a popular place and there was a 45-minute wait for a restaurant table, so we opted to eat in the more casual bar at the back, where there were a few more tables, and a pool table too.
The Warren House Pub had a good range of microbrews on tap and in bottles, including Asa's Blonde Ale, and Rudy's Red Ale. They also had a very impressive list of wines from Oregon, Washington, and California, as well as international wines, with seven available by the glass. We stuck with the local beers, though.
Donna had a Chicken Northwest sandwich and I had an oyster burger with chipotle mayonnaise. There were lots of seafood dishes like grilled oysters, baked halibut, sautéed prawns, or you could have filet mignon or other meat dishes too. The food was great, the atmosphere friendly - and the rain held off!

Back at the Ocean Lodge, Cannon Beach
So, well-fed, we walked back to our room. It was still a little too chilly and damp for wandering on the beach - and besides, we had a date with a bottle of red wine and two movies. It was just what we needed, to kick back and chill out for a few hours. 

Next morning we returned the DVDs, enjoyed the complimentary light breakfast (pastries, cereal, yogurt, fruit, OJ, and terrific coffee), and hit the road again. The rain was pouring down once more, but that's life on the Pacific Coast Highway.

Contact Details

Ocean Lodge
2864 South Pacific Street
P.O. Box 1037
Cannon Beach, Oregon 97110
Toll-Free Phone: 888/777-4047
Phone: 503/436-2241

Unique Inns

The hotel is a member of Unique Inns. For more details and for online booking information for all the Unique Inns in California, Oregon and Washington, as well as their inns in Idaho, and British Columbia in Canada, visit the Unique Inns website.
---
---
May 10, 23 09:47 AM

A food and drink expert charts the perfect course from San Francisco to Los Angeles.

Apr 26, 23 10:07 AM

California is home to some of the most diverse and beautiful natural landscapes in the world, making it a haven for outdoor enthusiasts. The state of California offers a wide range of outdoor activiti…

Apr 25, 23 11:08 AM

The latest study by Upgraded Points sets gas cars against electric vehicles to see which vehicle is truly the most economical on five American road trips. Examining the time and fuel costs along iconi…