Driving the
Pacific Coast Highway
Road Trip USA by Jamie Jensen
Avalon Travel's guide to driving the Pacific Coast Highway, Road Trip USA: Pacific Coast Highway by Jamie Jensen, is an attempt to pack over 1500 miles of road into less than 150 pages. The author takes the drive from Seattle to San Diego, and recommends places to stop, places to stay, and places to eat – and picks out some of the best and quirkiest PCH stories along the way.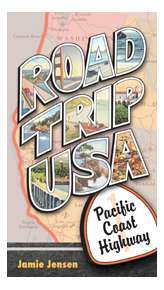 The first thing to say is that this book is an extract from Jensen's bigger book from Avalon Travel called simply Road Trip USA. That mammoth book of almost 1,000 pages describes 11 road trips all over the United States, including the classic Route 66 of course. This book on driving the Pacific Coast Highway is simply the PCH chapter from that book, published in its own right. There's a companion Road Trip USA: Route 66 volume already published, and others are on the way.

Driving the Pacific Coast Highway
The next thing to say is that this is a companion rather than a driving guide. It's a very readable companion, and we certainly get the impression we'd enjoy the author's company if we were driving the Pacific Coast Highway together. But you don't get detailed driving directions so you'll still need to buy good road maps to help you follow the route.

Road Trip USA: The Route
The author starts his trip in Port Townsend in Washington, although there is a 3-page guide to Seattle at the start of the book. He then drives around the Olympic Peninsula and down the west coast, winding up in San Diego – which gets a 2-page city guide. The other major cities on the route, Los Angeles and San Francisco, also get treated to city guides, though so too does Portland. In a book this small I'd have left Portland out, as it's quite a ways from the Pacific Coast Highway and hardly makes for a logical diversion. I'd have given the space over to somewhere else on the route – like Santa Monica, which for some reason the author skips altogether.

Oddities and Odd Inclusions
The best parts of the book are the quirky stories the author unearths on the way, and which he obviously enjoys sharing with his readers. They're the kind of stories and sights that make US road trips so great – stories like the Kinetic Sculpture Race in Arcata every Memorial Day Weekend, the chair in the café at the Devil's Punchbowl where Bruce Springsteen sat, and the town of Castroville where Marilyn Monroe was once "Miss Artichoke". We love these stories, and so will you, as they're part of what makes driving the Pacific Coast Highway so great. It's about much more than the dramatic scenery of Big Sur, and the author knows it.
However, there are some other odd inclusions and strange omissions. We've already mentioned the fact that there is nothing at all on Santa Monica, and the author also drives through Forks without mentioning vampires once. Then when he gets south of Los Angeles he goes a bit LA-LA, we feel, with a long entry for Disneyland, and another for the Richard Nixon Presidential Library. Now the Library may well be a worthy place, and we mean it no disrespect, but it is about 40 miles from the Pacific Coast Highway and in a book that's under 150 pages, every entry counts. We love Disneyland too, but we don't cover it on this website as to us it isn't part of the essential PCH road trip experience.
Road Trip USA Illustrations
The book is nicely illustrated, with some old photos, like the opening of the Golden Gate Bridge in 1937, and lots of lovely old-time picture postcards too. There are route maps all along the way, and some special feature spreads on things you'll encounter like El Camino Real and the California Missions, Big Sur, the Avenue of the Giants, and the Olympic National Park.
Apart from our minor complaints, this is a really enjoyable and inexpensive book from an author who clearly, like us, loves driving the Pacific Coast Highway. 
Buying the Book
Road Trip USA: Pacific Coast Highway by Jamie Jensen is published by Avalon Travel in the USA and in the UK. It's available on Amazon USA, at Amazon UK, in bookstores, and at other online booksellers.

Update!
Our review is of an older edition of this book. A new updated edition is now available, with another planned for 2015. There's also now a Kindle edition.
| | | |
| --- | --- | --- |
| US Paperback | US Kindle | UK Paperback |
| | 2015 Edition | |
---
---
Mar 12, 18 03:07 PM

The Pacific Coast Highway goes right through Laguna Beach, a relaxed artsy beach resort town between Los Angeles and San Diego. Located about 80 miles from San Diego, its attractions include shopping…

Mar 09, 18 06:34 PM

The Pacific Coast Highway goes right through Huntington Beach, otherwise known as Surf City USA and a popular beach resort town between Los Angeles and San Diego. It's about 40 miles from LA and 90-10…

Feb 28, 18 10:24 AM

Lots of people have recently been choosing their Best West Coach Beaches, Best Beaches in the World and Best California Beaches so Pacific Coast Highway Travel has listed the best of the best.