Epic Drives of the World
Epic Drives of the World from Lonely Planet describes 50 of the world's most exciting road trips, including, of course, the Pacific Coast Highway.
This handsome and hefty coffee-table book isn't cheap, but it's the kind of publication that will make a great gift for someone, possibly yourself. In addition to the 50 drives covered in depth (four pages per drive), each one has three more suggestions at the end of other similar drives you might like.
Epic Drives: Pacific Coast Highway
Which leads us to the Pacific Coast Highway. This is one of nine USA drives included in the book, and to start at the end, the other suggested drives if you liked the PCH are the Okanagan Valley Tour in Canada; a Modern Art Meander in Provence, visiting the places painted and lived in by artists like Picasso, Van Gogh and Matisse; and Wonders of Ancient Sicily, taking in ancient ruins, farmland and volcanoes. I'm not sure how these are similar to the Pacific Coast Highway, but never mind.
The main drives each have two two-page spreads, following a similar format. Most have a full-page photo to really whet your appetite for the beauty of the drive, an overview map, several more inspiring photos or the occasional artwork, and about two-three pages of text. 

Each drive also has a Directions box, which doesn't actually give you the directions but instead has practical information like the start and end points, length of the drive, the best time of the year to do it, and suggestions of where to stay, where to eat and a Hot Tip. Don't expect in-depth information, though – you only get one recommended place to stay and one to eat in the whole 1050 miles from Seattle to San Francisco!
This kind of book is not about detailed information, however. You'll still need guidebooks and maps if you're going to make the drive. They're about ideas and inspiration, and for that they work well. The author of the PCH entry captures the feel of the drive well, and the book is a collection of well-written essays rather than a guidebook-style more factual approach.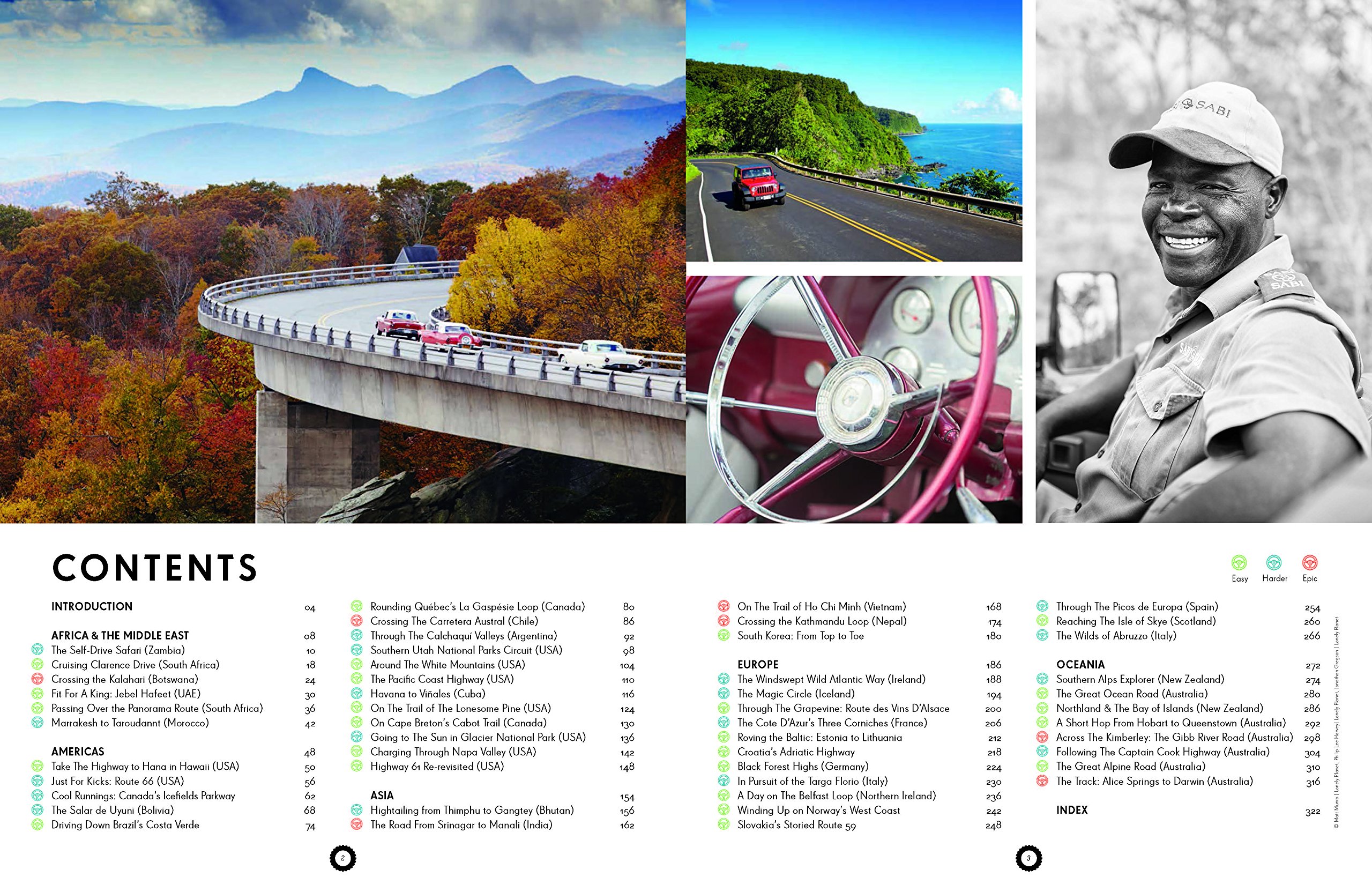 Other Epic USA Drives
If driving the Pacific Coast Highway inspires you to plan another road trip in the USA then there are plenty here to choose from, including a Napa Valley drive. That hardly counts as epic, being only 156 miles (251km), although it has novelty value as the driver tackles it using an electric vehicle.
Route 66 is included, of course, along with drives around the Southern Utah National Parks, the Going to the Sun Road in Glacier National Park, and a drive through the Blue Ridge Mountains.

Drive around the World
The book covers the world, of course, and includes six drives in Australia, though only five in the whole of Asia: India, Bhutan, Vietnam, Nepal, and South Korea. So China is missing completely, as is Russia. Ireland is represented by The Wild Atlantic Way and a circular drive from Belfast that takes in the Antrim coast.
There's one drive in Scotland, which is an odd choice, from Portree on the Isle of Skye to Applecross on the mainland. This is a beautiful drive but only 74 miles (119km) in length – again, hardly epic. Why not cover the North Coast 500, which has been described as 'jaw-droppingly beautiful' and 'Scotland's answer to Route 66'?  This was introduced in 2015, two years before the book was published, and would be a much better choice if you want to justify the word 'epic' in the title.

The Verdict
This is an enjoyable read and a beautifully-produced book. We have a few quibbles over the choices, which is always the case with lists of any kind, but we certainly wouldn't object to receiving it as a present, and would be happy to give as one to a keen driver or armchair traveller. 
---
---
Oct 06, 22 03:19 AM

The open road is a motorcyclist's dream, a pursuit of ideals, and a motivation to manifest destiny. The debate for the perfect ride has gone on for decades, bringing riders to new locations to test th…

Oct 06, 22 03:19 AM

No road trip would be complete (or half as fun) without stopping along the way for tasty snacks and decadent feasts. Luckily, scores of hungry travelers have paved the way and created a market for res…

Oct 01, 22 05:46 AM

Big Sur. So, Is it a Big Deal?