Get Some Fun PCH Gifts Here
West Coast RV Parks
One of the best guides to West Coast RV Parks, covering campgrounds in California, Oregon, and Washington, is West Coast RV Camping from Moon Guides.

If you want a guide to West Coast RV Parks that covers just about every RV park and campground along the Pacific Coast Highway then West Coast RV Camping by Tom Stienstra in the Moon Outdoors series can't be beat.

It covers over 1800 RV parks and campgrounds throughout the entire states of California, Oregon, and Washington, and anyone planning an RV trip up or down the Pacific Coast Highway shouldn't leave home without a copy.

West Coast RV Camping:
The Author
The book is just over 1000 pages long, a massive job, and the man who undertook it is Tom Stienstra. Tom's written lots of outdoors guides including camping guides to California, Oregon, and Washington, as well as to Northern California and the whole Pacific Northwest. He's also written guides to California Wildlife, California Fishing, California Hiking, and more.
He's no ordinary guidebook writer, though, as he does weekly radio and TV programs in San Francisco, and has won numerous awards including California Outdoor Writer of the Year five times, and twice the National Outdoor Writer of the Year in the newspaper division. Oh yes, he's also the outdoors columnist for the San Francisco Chronicle.

The Best West Coast RV Parks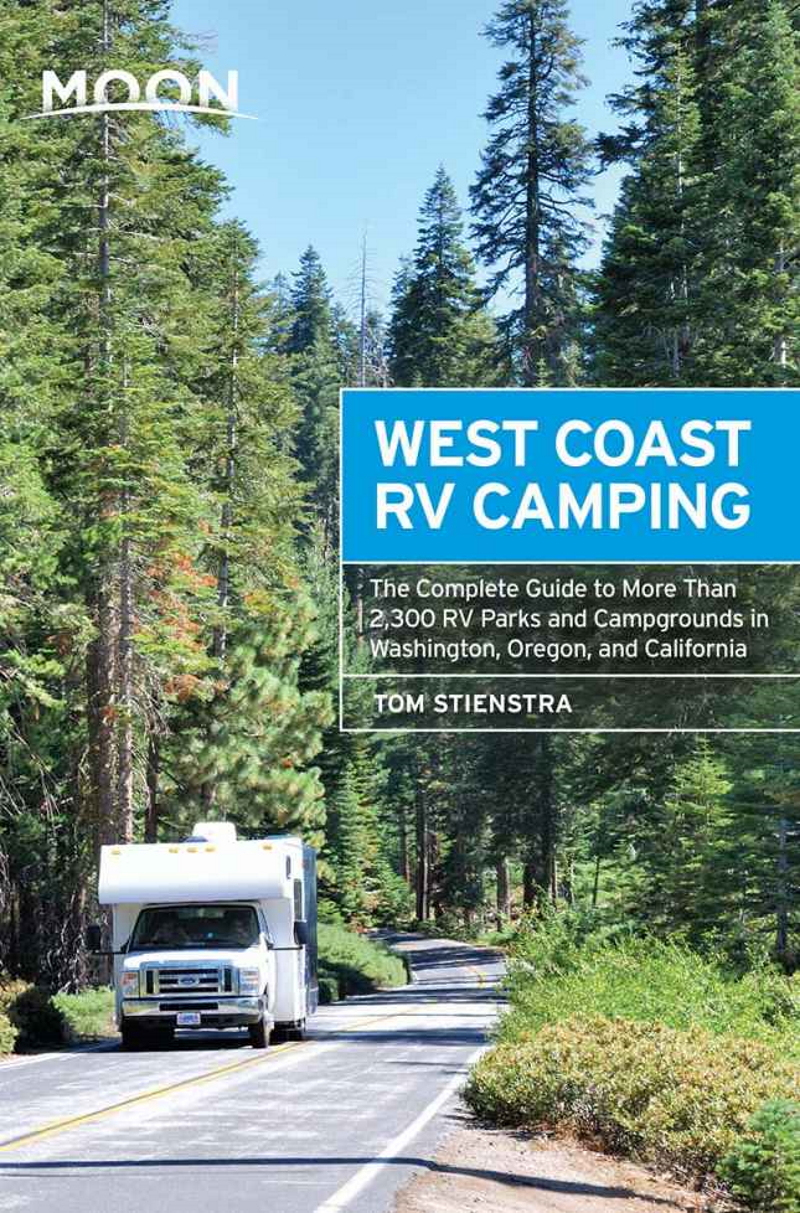 So, when you buy a copy of West Coast RV Camping, you're not only buying a guide to all the RV parks and campgrounds in Washington, Oregon, and California, you're buying into the author's knowledge built up over years of traveling in the region and writing about its outdoors aspects like fishing, wildlife and camping.
Stienstra doesn't just describe every one of those 1800+ RV parks and campgrounds, he gives them a Scenic Rating out of 10, tells you which are the best for fishing, for watching wildlife, which RV sites are right on the coast, and which are on the prettiest lakes and rivers.

West Coast RV Parks: Fees and Facilities
Each of the 1800+ entries is marked on one of the maps and given a number in a logical geographical order, then listed in the text in numerical order. So if you know where you are, which most of us do most of the time, and you know where you're headed, it's easy to find the RV sites you might want to book. Each entry also tells you whether reservations are essential, recommended, or not accepted, as well as the park or campground's fees. 
Each entry also reviews the site's facilities, and gives you the phone number, fax number, and a website if there is one. Most importantly, it gives you detailed directions to help you find the place.

The Best West Coast RV Parks
There are lots of other extra features in the West Coast RV Camping guide, including a few pages of RV Camping Tips, which new RV people especially will find useful. There are several pages listing useful resources at the back, and a 26-page index. The author also gives us his choice of the Best RV Parks and Campgrounds in five categories:
Best Coastal Sites

Best Fishing

Best Wildlife-Viewing

Prettiest Lakes

Prettiest Rivers
West Coast RV Camping
At first glance the book might seem pricey but it works out at just a few cents a page. For anyone planning even one RV trip anywhere in California, Oregon, or Washington, or along the Pacific Coast Highway, it will more than repay the purchase price, I'm sure.

---
---
Sep 26, 23 04:18 AM

The Iconic Big Sur Waterfall Everyone Needs to See At Least Once

Sep 24, 23 05:26 AM

Pacific Coast Highway Travel picks the best restaurants in Santa Cruz, choosing the finest gourmet eating places, with both local and international cuisine.

Sep 24, 23 04:17 AM

Pacific Coast Highway Travel visits the Big Basin Redwoods State Park, which is the oldest state park in California.