California Backroads
This guide to California backroads drives, Backroads of the California Coast, is one of the most beautifully-written and best-photographed driving guides we've seen. It recommends 24 driving tours along the California coast, from the Redwood National Park on the border with Oregon down to a drive through the Torrey Pines State Reserve, north of La Jolla.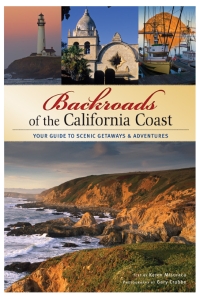 There are scenic coast drives included, alongside some which take you inland, and for anyone wanting to make the most of driving the Pacific Coast Highway, we really do recommend this 256-page book. If you have time to explore, this will introduce some of the most scenic areas of the coast, and provide a good, practical guide as well as being a handsome souvenir to enjoy afterwards.

"...one of the most beautifully-written and best-photographed driving guides we've seen."

Beautifully-Written Backroads Guide
Each drive has anything from about 3-5 pages of text, and in addition there are boxes and spreads with short entertaining essays on different topics, such as the Avenue of the Giants, Carmel's architecture, the Presidio of San Francisco, the sea lions of Point Lobos, and so on.
As an example of what we mean when we say the text is well-written, take this from the spread on the Redwood National Park: "Flourishing in drizzle and damp, these silent forests resemble a primordial world in which one expects to see pterodactyls flying by."
Or this from the description of a drive that takes in the Samoa Dunes Recreation Area: "Fluttering like pieces of torn white paper, flocks of egrets can often be seen flying above a grove of cypress trees they call home." This is no churned-out guidebook, but a book that someone has worked hard to make both evocative and practical.
California Backroads: The Author
Karen Misuraca, from Sonoma, is the award-winning travel writer who wrote the fine text for this book. She has written many other travel guides, including The California Coast, and is the founder of the website www.bestgolfresortsoftheworld.com.

California Backroads: The Photographer
Almost all of the beautiful photographs - and they really are impressive - were taken by Gary Crabbe. Check out his website to see for yourself just how good a photographer he is. It didn't surprise us to discover that he's worked for the National Geographic Society, the New York Times, and the Carnegie Museum of Natural History amongst others.

Minor Faults
No book is perfect, and this would have been better with a little more practical information included. If you're describing any drive you should definitely tell the reader how long the drive is, and give a rough estimate of how much time it is likely to take to do it. You need to know whether to allow two hours or two days! The driving directions are minimal, although probably just enough so that you don't get lost. You will still need a good road map, to use alongside them.

Buying this California Backroads Guide
Backroads of the California Coast is published by the Voyageur Press. It is available worldwide on Amazon, where we suggest you use the 'Look Inside' feature so you can see for yourself just how beautiful and useful it is. 

| | | |
| --- | --- | --- |
| Kindle Edition | USA Paperback | UK Paperback |
---
---
Feb 01, 19 04:24 PM

San Clemente in California is a small city on the Pacific Coast Highway midway between San Diego and Los Angeles, noted for its beaches, surfing, and Spanish colonial-style architecture.

Jan 21, 19 05:19 PM

If you're looking for good Gold Beach Oregon lodging check out the Tu Tu Tun Lodge a few miles inland along the Rogue River, not far from the Pacific Coast Highway on the Southern Oregon coast.

Jan 21, 19 04:48 PM

Gold Beach is a small town on the Oregon coast at the mouth of the Rogue River with the Pacific Coast Highway, Highway 101, here called the Oregon Coast Highway, running right through it.