Pacific Coast Highway Road Trip Guide
Get Some Fun PCH Gifts Here
Pacific Coast Highway
Road Trip Guide
Book Review
This Pacific Coast Highway Road Trip Guide covers the drive down the west coast from Vancouver in British Columbia, Canada, all the way to San Diego in California.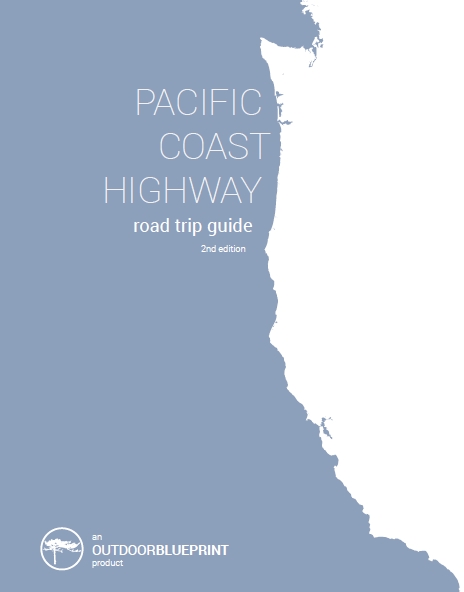 The first thing you notice about this road trip guide for the Pacific Coast Highway is the size. It's not the usual guidebook size but is a large 11" x 8.5" paperback, though it's a slim volume at only 82 pages. However, it's also different from any other guide you've seen so is well worth taking a look at.
According to Amazon, Brian Eagen is the creator of OutdoorBlueprint.com, a visual database for the aspiring outdoor adventurer. He is the author of the most comprehensive online guide to Joshua Tree National Park.

When to Visit
The guide begins with a very useful series of charts which will enable you to plan the best time of year to make your drive, depending on where you're going and what your preferences are. There are separate charts for the Washington coast, the Oregon coast and the Northern, Central and Southern California coasts. Each of the charts then rates the best months for various things. 

All areas have Good Weather and Low Crowds covered, but the others have slightly different options depending what the appeal of that particular area is. Northern California, for example, has Wineries (best months, June-October), while Southern California has Boating and Surfing (April to October).

 Other options covered in different places include wildflowers, orcas, gray whales, coastal hiking, elephant seals, monarch butterflies and driving Big Sur. This is a really neat feature, and that's just the first two pages.

Budgeting and Mileage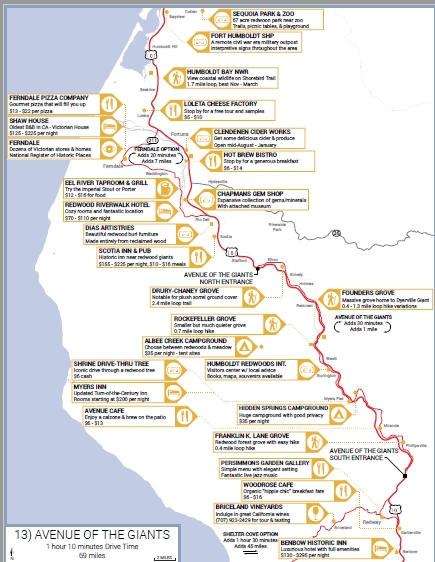 The next page is also neat, and that's a page that allows you to work out a budget for your trip. For example, a Food budget is number of people times number of days times daily food budget. That's simple enough, but then you add in your budget for lodgings, and another for the cost of visiting attractions, national parks and so on.
Finally there's your budget for gas, and to help with that there's a mileage chart on the opposite page, giving you the distance between the main towns along the route.

Trip Planner
The next section is an all-essential trip planning tool. Like the budget planner, it's simple but it's essential. You have eight blank days (so you might want to photocopy the pages for a longer trip) in which you enter your start point, end point, mileage you'll cover, when you'll set off, when you'll arrive, where you plan to eat, your day's activities and any additional notes.
When you're doing a long road trip this is the kind of planning you need to be making unless you take a totally free and easy approach and don't care where you stay each night. But most people have a fixed time-frame, so you have to be sure the trip will work and this helps you do just that.

Other Features
The rest of the introductory section includes a packing list and a list of 15 Must-Have Apps for your road trip, such as the excellent GasBuddy, alongside apps for finding parking, road repairs, hotels, dining and even the nearest rest rooms!
At the back of the book are some suggested itineraries, too. There's one each for Washington (7 days), Oregon (6 days), Northern and Central California (6 days each), and Southern California (5 days). These are less useful, as of course your available time may well be different, but they are only suggestions and do give you an idea as to what you can fit into a day in different places.

Places on the Way
The bulk of the book is given over to mainly two-page spreads on the most important stops along the way. On the left-hand page are one or more maps, with text on the right-hand page. For example, with Newport (right) there's a map of the coast north and south of Newport, showing what there is to do all along the coast (which includes a few eating and lodging suggestions). Then there's an inset map of Newport itself, with a few more suggestions.

The drawback is the lack of practical information on the places that are shown on the map. Suppose you want to know about the Sylvia Beach Hotel in Newport. All you get by way of description is 'Unplug in literature-themed rooms' and a note that rooms range from $120-$230 a night. You're shown roughly where it is on the map, but there's no street address, phone number or website. It's the same with everything else shown.
The text on the right-hand page usually consists of advice from a local resident or residents, although some are different. The spread for the Redwood National Park, for example, gives you five 'Fun Facts about Redwoods'. 

The Verdict
This road trip guide has some incredibly useful features, and if you're planning to drive the whole length of the coast then as a planning tool and an overview of the whole trip it's useful. Whether it's worth $19.99 is another matter. Maybe for the trip of a lifetime it is, although you will also want to buy one or two more conventional guidebooks as well. But the author has chosen to take a slightly different approach from the norm, and full marks to him for that.
There is also a $15 digital option, which makes the book more affordable and lets you carry it round with you on your smartphone, tablet or laptop. Click here for details.

---
---
May 10, 23 09:47 AM

A food and drink expert charts the perfect course from San Francisco to Los Angeles.

Apr 26, 23 10:07 AM

California is home to some of the most diverse and beautiful natural landscapes in the world, making it a haven for outdoor enthusiasts. The state of California offers a wide range of outdoor activiti…

Apr 25, 23 11:08 AM

The latest study by Upgraded Points sets gas cars against electric vehicles to see which vehicle is truly the most economical on five American road trips. Examining the time and fuel costs along iconi…