Frommer's Guide to Seattle
The Frommer's Guide to Seattle for 2009 was published December 2008 and with 274 pages of text, a colour photo section, and a foldout map not only of the city streets but of the Greater Seattle area, it's going to be hard to find a better city guide. 

This review is of an older guide, which the publisher has not kept updated. Here are more recent travel guides to Seattle, which you might want to consider instead.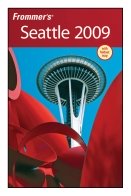 What we especially like about this book is the friendly and informed tone of the author, Karl Samson, who not only knows the Seattle streets like the back of his hand, he's able to convey his enthusiasm for the city in a way not all guidebook writers manage. And we know – we are guidebook writers!
Samson lives in Oregon and is also the author of the Frommer's Oregon and Washington State guides. He's clearly a Pacific Northwest expert, and his interests in outdoor sports and wine certainly add something to his knowledge of the region.

The Book
As guidebook writers ourselves, we often come to hate the rigid formats that most guidebook series have. As guidebook users too, we have to say we like the Frommer's format. It kicks off with "What's New in Seattle", where the author covers what's been happening in Seattle since the last edition of the guide – new hotels, new restaurants, new attractions, and what's new on the side trips to places like San Juan Island and Orcas Island.

The Most Unforgettable Seattle Experiences
Next section is the author's choice of what makes Seattle Seattle. They're the best things to do to get a flavor of the city, starting appropriately enough with Eating Your Way through Pike Place Market. Other top Experiences recommended in the Frommer's Guide to Seattle include doing a Seattle underground tour, sea kayaking on Lake Union, visiting Volunteer Park and strolling the Olympic Sculpture Park.
The author then picks out his choice of Best Splurge Hotels, Best Moderately Priced Hotels, Best Dining Experiences, Best Things to do for Free (or Almost), and Best Things to do on a Rainy Day. In Seattle, that's a lot of days.
Where to Eat in Seattle
Frommer's Guide to Seattle includes lengthy reviews of something like 100-120 restaurants, from the Agua Verde Café to the Yarrow Bay Grill, from cheap eats like the Baguette Box to gourmet temples like top chef Tom Douglas's Dahlia Lounge. We like the breadth and depth of the Seattle restaurant coverage. The same goes for...

Where to Stay in Seattle
If you're planning a Seattle visit or vacation, you need good hotel recommendations. The Frommer's Guide has them, over 80 in all, and like the restaurant reviews they're detailed, not just 2-3 sentences like many guidebooks have. We like the fact that there's space for the well-known chains like Days Inn, Marriott, Ramada, Comfort Suites, and Best Western, as well as the splurges. The author's top choices for that splurge are the Edgewater, Fairmont Olympic, Grand Hyatt Seattle, Hotel Andra, Hotel 1000, and the Inn at the Market.

What to Do in Seattle
Oh yes – the author of this Frommer's Guide to Seattle does also tell you what there is to do in the city, from quirky stuff like the underground tours and the Gum Wall through to the attractions everyone wants to see, like the Space Needle, the Seattle Art Museum, and Pike Place Market.
Recognising that people are often in the city for short visits, maybe for a weekend, with a partner who's there on business, or at the start or end of a cruise to Alaska, the Frommer's Seattle Guide includes the Best of Seattle in 1-Day, 2-Days, and 3-Days, and there are also several walking itineraries too.
If there's a better guide to Seattle, we've yet to see it. It's a shame the publishers haven't kept it in print but below are the Amazon links if you want to check it out anyway.

| | |
| --- | --- |
| US Paperback | UK Paperback |
---
---
Sep 29, 19 04:26 AM

Whale watching coupons offering a big discount are available now in Newport Beach for cheap whale watching cruises with Newport Landing Whale Watching.

May 21, 19 02:22 AM

Check out the new live Jelly Cam at the Monterey Bay Aquarium! Note that it only operates 7am-7pm Pacific Time, otherwise you get a pre-recorded YouTube video... which is still cool to see.

May 20, 19 03:36 AM

Stunning hotels that'll ensure you get the very best from one of the world's finest road trips.