California Bed and Breakfast Inns
Get Some Fun PCH Gifts Here
California
Bed and Breakfast Inns
The guide to California Bed and Breakfast Inns lists over 250 boutique hotels, wine country cottages and more.

The brand new 20th edition of the guide to California Bed and Breakfast Inns is now out. Published by CABBI (The California Association of Bed and Breakfast Inns), the guide lists over 250 Bed and Breakfast Inns and other exclusive getaway places throughout California.

The organization includes boutique hotels, wine country cottages, inns with ocean views, farm stays, historic Victorian mansions, and many more select places within its 148 pages. Naturally many of these are along the Pacific Coast Highway, and others on the essential PCH detour inland to the wine country of Napa Valley and Sonoma.

How the Book's Organized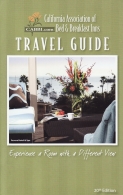 The guide is organized regionally, starting with Northern California (sub-divided into the Redwood Coast, Mount Shasta, Clear Lake, Mendocino, Sonoma, and Napa Valley), through Gold Country/High Sierra, the San Francisco Bay Area, the Central Coast/Valley, and ending in Southern California (Santa Barbara, Los Angeles, Orange County, the Southern California Mountains, San Diego, and Palm Springs.)
Each region comes with an overview map, with the inns listed alongside, alphabetically. The inns aren't shown on the map, but only the towns which have inns in them are shown, making it very easy to plot a route using these inns or to see if there are any located near to where you plan to visit.
Bed and Breakfast Inn Reviews
The amount of space devoted to the review of each property varies enormously. Some get two pages, some one page (see right), some half a page, with the majority being a one-paragraph potted summary. All include at least one photo, full contact details, and the range of room prices.
Several places that we have stayed at are included in the guide, such as Napa Valley's Wine Country Inn, Napa's 1801 First, Mendocino's Stanford Inn, the Casa Laguna in Laguna Beach, the Pelican Inn and Suites in Cambria, and both the Cypress Inn and the Vagabond's House Inn in Carmel, so we can say from personal experience that the write-ups here are honest and accurate.

It also shows us that the members of the Association are a pretty select bunch of California bed and breakfast inns. The only drawback is that the shorter reviews don't really do the places justice, but at least they let you know that they're there, and you can take a longer look at the property's website to get a better feel for it.

California Bed and Breakfast Inns
Our verdict is that if you like to stay in places that are different, historic, charming, atmospheric, or in some other way better than average, the booklet is a good investment. The places aren't cheap, but neither are they the most expensive 5-star luxury hotel resorts. Quality costs, after all, and these bed and breakfast inns are definitely quality.

---
---
May 10, 23 09:47 AM

A food and drink expert charts the perfect course from San Francisco to Los Angeles.

Apr 26, 23 10:07 AM

California is home to some of the most diverse and beautiful natural landscapes in the world, making it a haven for outdoor enthusiasts. The state of California offers a wide range of outdoor activiti…

Apr 25, 23 11:08 AM

The latest study by Upgraded Points sets gas cars against electric vehicles to see which vehicle is truly the most economical on five American road trips. Examining the time and fuel costs along iconi…