Route 66 Meets
the Pacific Coast Highway
In the words of the song, Route 66 winds from Chicago to LA, more than 2000 miles all the way....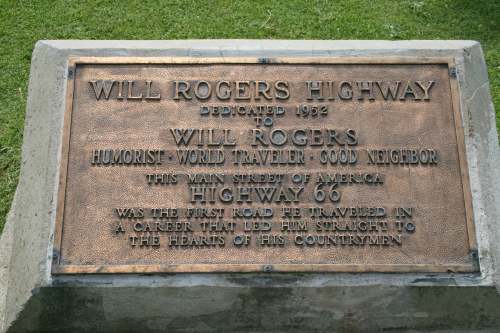 Where PCH Meets Route 66
Photo (c) Donna Dailey
 And for 320 of those miles it's in California, heading for journey's end. It passes through San Bernadino as I-15, with Cajon Boulevard being the old Route 66 into the city. You can pause at 14th and E Streets and visit the McDonald's Route 66 Museum, which is on the site of the first ever McDonald's restaurant.

From here Route 66 heads on west as CA66 or Foothills Boulevard, running parallel to I-10. At 2728 W. Foothills Blvd is the famous Wigwam Motel, one of only three remaining in the USA today and impossible to miss.
Foothills Blvd turns into Huntington Drive and then Colorado Blvd as it reaches Pasadena. At this point it becomes tricky to follow Route 66, as there have been various route changes and road changes along the way. Till 1940 Route 66 crossed the Colorado Street Bridge, but then the route switched when the Arroyo Seco Parkway opened in December 1940 connecting Pasadena to Los Angeles.
In downtown Los Angeles, Route 66 first ended at the junction of 7th and Broadway, but in 1935 the route was extended to Santa Monica. You can follow either Sunset Blvd or Santa Monica Blvd, both of which reach the Pacific Coast Highway in Santa Monica. The end of Route 66 was where Olympic Blvd emerges near the Santa Monica Pier, a suitable place to stop. Just to the north west of here, near the tourist information booth, a plaque commemorates historic Route 66. 

---
---
Jun 23, 21 05:26 AM

Here is Pacific Coast Highway Travel's pick of the best California beach hotels including beach hotels in Santa Monica, Santa Barbara, and Malibu.

Jun 05, 21 03:27 AM

About 3,000 elegant tern eggs were abandoned at a southern California nesting island after a drone crashed and scared off the birds, a newspaper reported Friday.

Jun 02, 21 03:59 AM

In 1972, California voters mandated the creation of a coastal trail from Oregon all the way to Mexico, but it still isn't complete.