Get Some Fun PCH Gifts Here
Needles Hotel Resort:


Pirate Cove Resort and Marina

If you're looking for a Needles hotel resort then visit Pirate Cove Resort and Marina alongside Route 66 and the Colorado River with pontoon rides on the river.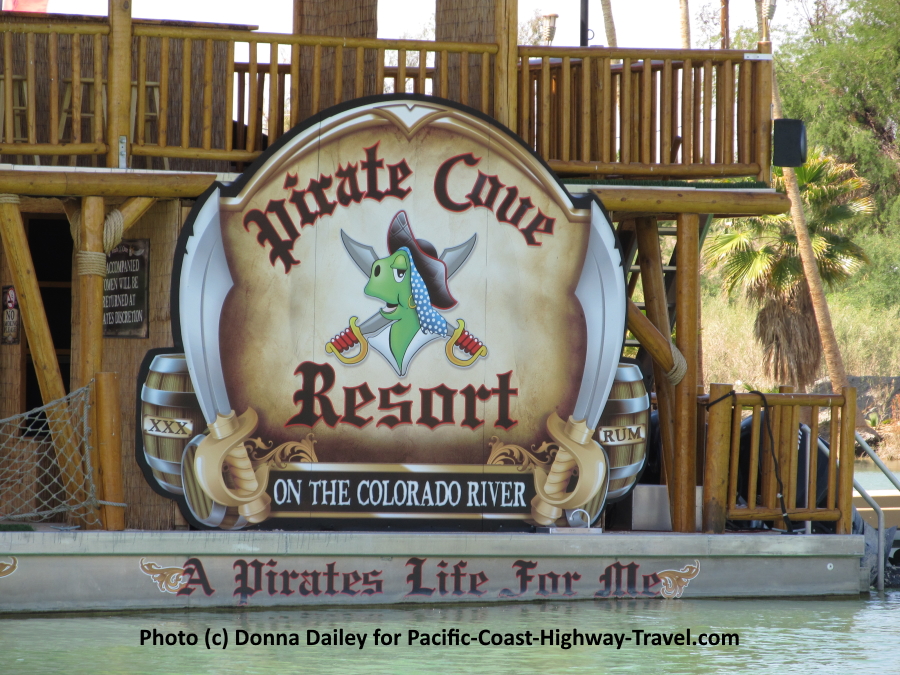 All Photos (c) Donna Dailey
We decided to drive part of Route 66 to get to the Pacific Coast Highway, and this Needles hotel resort was the perfect overnight stop.

We had no idea what to expect of the Pirate Cove Resort and Marina, and as we drove along I-40 looking for the Park Moabi exit, we wondered if we were in the right place. Were we even in California?
Around us was the kind of scrubby desert landscape we're more used to in Arizona, and there were distant glimpses of what might be the Colorado River, but could there really be a resort around here?

But we took the exit and the road dropped down into a magic place that we fell in love with instantly. Our cabin was gorgeous, and it was a really special feeling for the first night of a road trip to look out one side and see the old Route 66, and on the other an off-shoot of the Colorado River.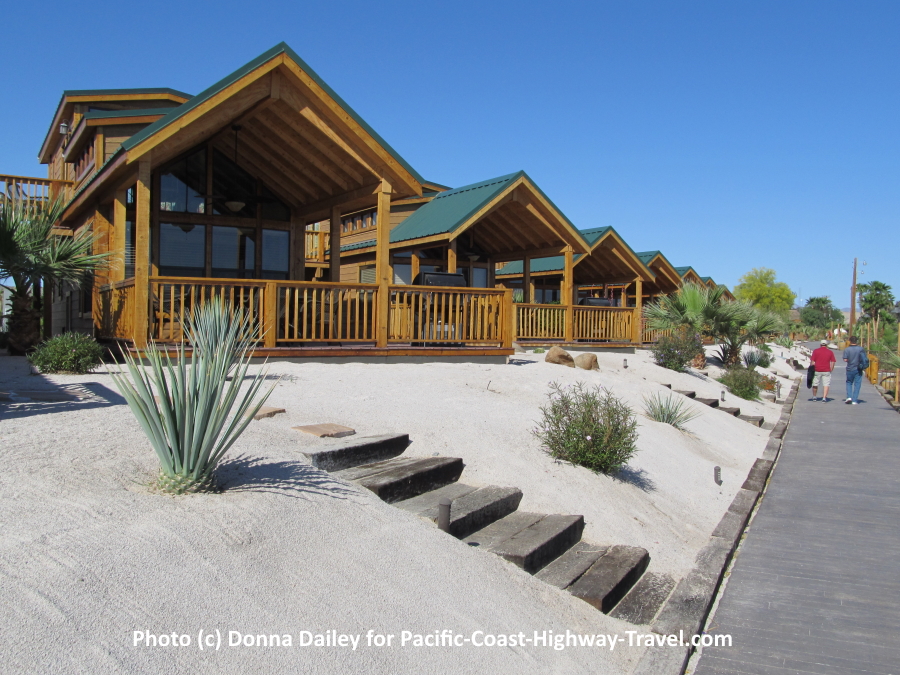 Accommodation In Cabins
Don't worry about noise from the road – it's now a dead end and gets very little traffic. The noisiest thing all night was the honking not of trucks but of Canada geese. Pirate Cove is a wildlife paradise. Next morning we had coffee on the deck and watched hawks circling right over us, as if they might drop down from the sky and carry off a blueberry muffin. 

Our Cabin
Route 66
We didn't know it when we drove in, but we did by the time we drove out. The stretch of road that links Pirate Cove to I-40 features in the movie, Easy Rider. In the opening sequence the stars Peter Fonda and Dennis Hopper drive up off Route 66 towards the Interstate, and behind them is an old garage (built for the film) and what is now the entrance to Pirate Cove. There's more about the 'Mother Road' here on the Pirate Cove website. 

The Marina
Colorado River Rides
Pirate Cove is in a unique location. It must be the only accommodation in the USA which is alongside both Route 66 and the Colorado River. It actually stands on a small off-shoot of the river, but the main river with the Arizona/Colorado border running down the middle is less than a mile away. It flows down towards Laka Havasu, and visitors come from there to Pirate Cove on boat trips, just to eat at Pirate Cove's award-winning restaurant (see below).

The resort offers pontoon rides out onto the river, and if you only do one thing while you're there, you must take a boat trip on the Colorado River. You can rent your own pontoon, if you're happy to do that, and will be given a lesson in safety and navigation before you set off. Or you can do what we did and take an amazing ride on the river with Captain Kelly. See our separate account of the trip from Pirate Cove on our Colorado River Ride page.

Mike and Donna At Pirate's Cove
Award-Winning Restaurant
We enjoyed both a dinner and lunch at the Pirate Beach Bar and Restaurant, though we were there early in the season and the full dinner menu wasn't yet available. The bar menu was pretty impressive, though, and we weren't surprised to learn that this piratical place overlooking the water has already picked up a few awards.
Houseboat Magazine voted it Number 1 Lake Restaurant and Bar in the Nation, while it was also a Readers Choice Award-Winner in Powerboat Magazine as their Favourite Restaurant and Bar to Boat to in the Nation. Those are pretty impressive awards to win, competing against the entire USA. 

We'd also like to give it an award of our own – the Pacific Coast Highway Travel Award for Best Cocktail in California. Their Flying Dutchman cocktail combining orange and vanilla vodka, orange juice, mango juice, and pina colada, would be worth crossing the Caribbean for. It's a yummy yet potent mix that makes both a great aperitif and a terrific dessert! For food we enjoyed some great fish and chips, a Barnacle Burger of fine Angus beef, and a really tasty BBQ pulled pork sandwich.

The Lounge In Our Cabin
Needles Resort: Accommodation
Of course you could have great resort amenities and a fine restaurant, but it would be worth nothing if your room was disappointing. Not so here. We had a spacious two-story cabin which was colorful, comfortable, and had all the amenities. Downstairs was a lounge, fully-fitted kitchen for self-catering, a bathroom and bedroom, while upstairs was the master bedroom and ensuite bathroom.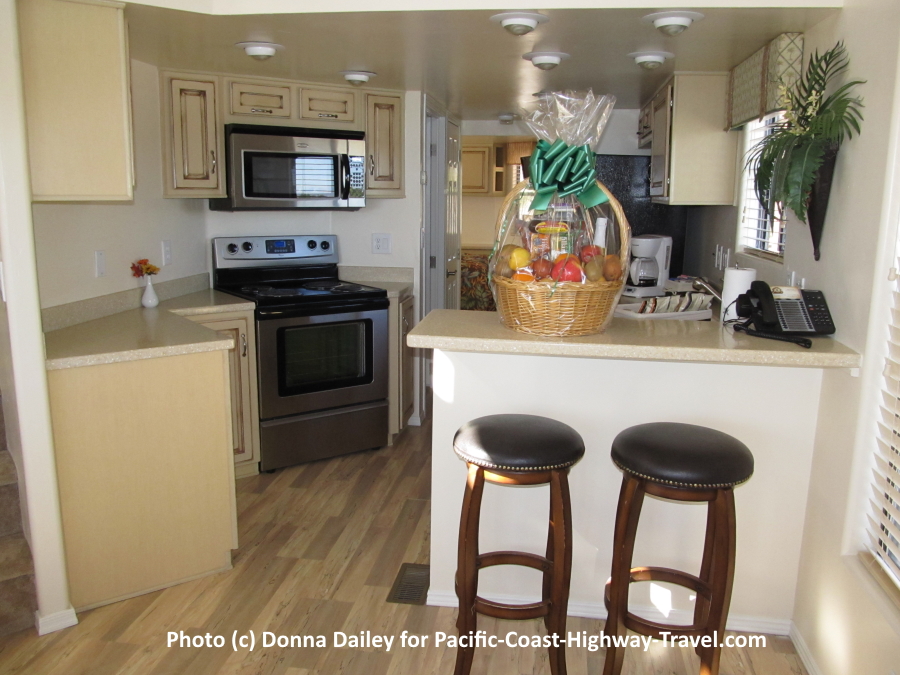 The Kitchen
Outside was a big balcony with a BBQ and a table and chairs looking out over the water. The cabins can sleep six, though four would be more comfortable. We loved the rustic Scandinavian-style looks, the beachside location, the high ceilings, and the fact that everything in the cabins was top quality.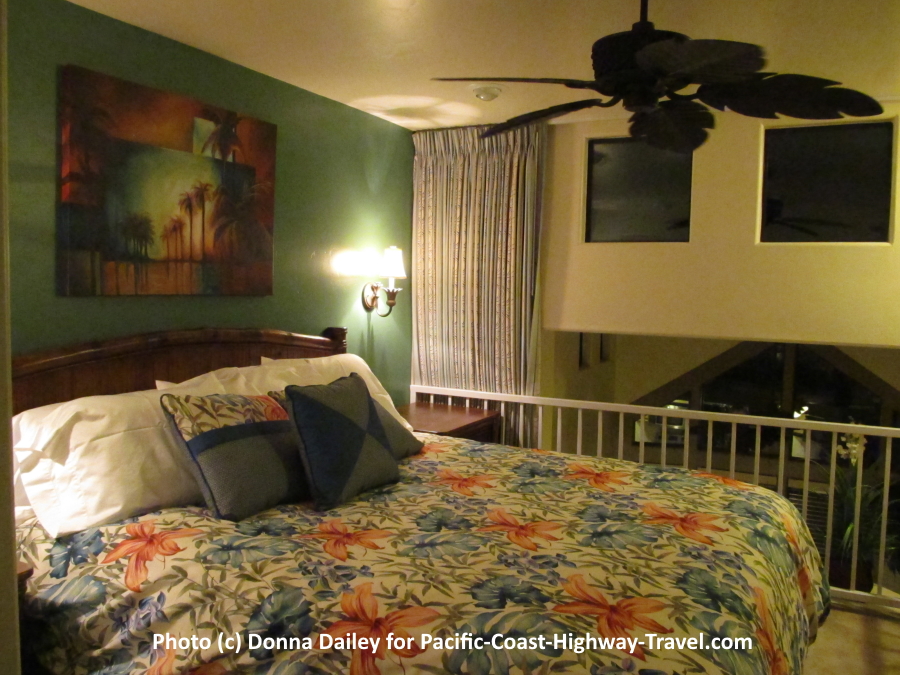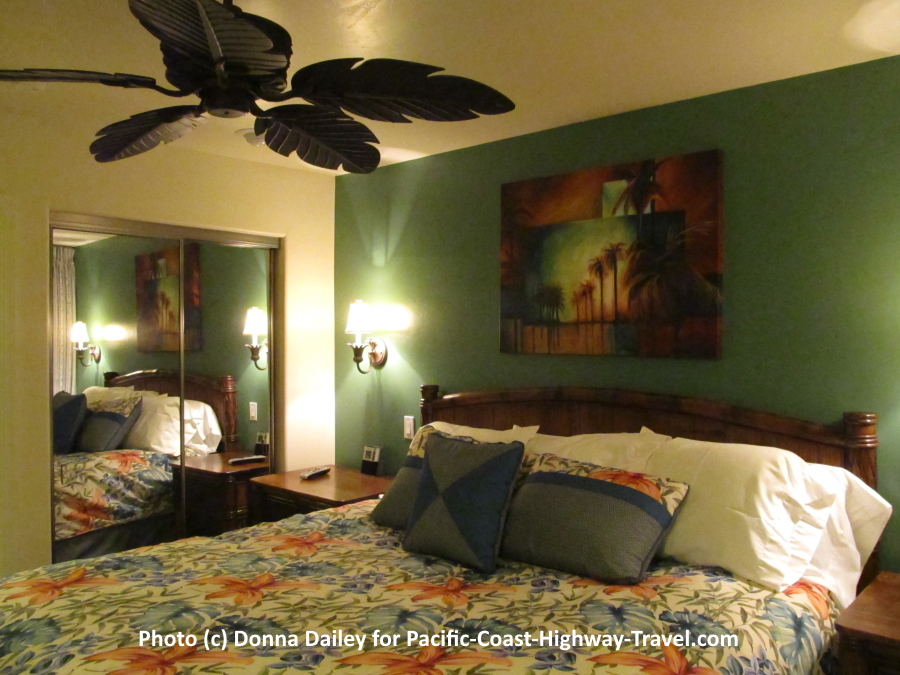 The Loft Bedroom
Our YouTube Slideshow
Take a look at some of Donna's photos taken
at Pirate Cove and on our wonderful river ride:

Needles Hotel Resort: Contact Details
Pirate Cove Resort and Marina
100 Park Moabi Road
Needles, CA 92363
Tel: 760/326-9000
Toll-free: 888/627-8532
Email: reservations@piratecoveresort.com

---
---
Sep 26, 23 04:18 AM

The Iconic Big Sur Waterfall Everyone Needs to See At Least Once

Sep 24, 23 05:26 AM

Pacific Coast Highway Travel picks the best restaurants in Santa Cruz, choosing the finest gourmet eating places, with both local and international cuisine.

Sep 24, 23 04:17 AM

Pacific Coast Highway Travel visits the Big Basin Redwoods State Park, which is the oldest state park in California.