Get Some Fun PCH Gifts Here
Colorado River Rides
Colorado River Rides can be booked at Pirate Cove Resort and Marina outside Needles in California on the Arizona border by renting pontoons or on a guided ride.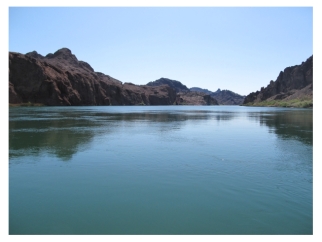 The Colorado River:
All Photos (c) Donna Dailey

We hadn't planned a Colorado River ride when we arrived at the Pirate Cove Resort and Marina near Needles in California. For us it was a convenient overnight stop where we could join Route 66 on our road trip from southern Arizona to the Pacific Coast Highway.

We asked what there was to do at this magical resort hotel and when we were told that a pontoon trip along the Colorado River was one of the most popular activities, we signed up. Boy, are we glad that we did. It turned out to be one of the highlights of our entire trip through Arizona and California.

Colorado River
Rides in a pontoon can either be guided – as we did with Captain Kelly and two other resort guests – or you can take a pontoon out yourself after a safety and navigation lesson. Pirate Cove sits right on a beach in the Moabi Regional Park. It's in an inlet that leads into the mighty Colorado River, less than a mile away.
The river flows down to reach Lake Havasu, and lots of people sail up from the lake and Lake Havasu City just to chill out at Pirate Cove, or to dine at its award-winning restaurant. (See our review of the Pirate Cove Resort and Marina).

Captain Kelly took us out onto the river, and was soon pointing out features we would have missed by ourselves. 'There's good fishing here,' he told us, 'with both largemouth bass and smallmouth bass, as well as striped bass, and native species like the humpback chub and the bullhead, which are protected.'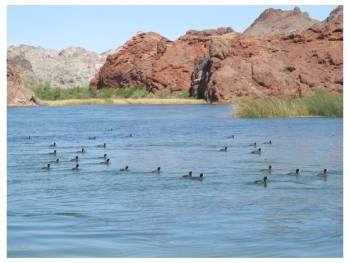 Wildlife on the River
The wildlife along the river was one of the real treats for us. Flocks of coots (above) scattered as we approached, and within a few minutes we were watching a blue heron fishing, and then taking off to fly high above us, against a backdrop of the aptly-named Needles Mountains (below), which give the town of Needles its name. Vultures also soared high, while others sat in tree branches by the river as we sailed quietly past.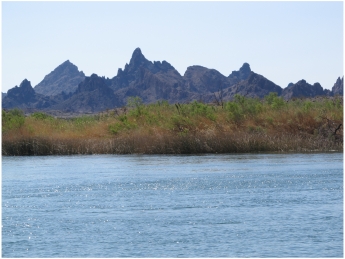 Havasu National Wildlife Refuge
We enter the Havasu National Wildlife Refuge. 'This covers 37,000 acres,' says Captain Kelly, 'And you can only get to it by boat from the river. From now on you should keep your eyes out for burros and big-horned sheep. In the winter bald eagles nest here. You also get beavers, javelina, mountain lions, coyotes. The burros are descendants from those brought in by the Spanish missionaries. They've adapted so successfully to life here that they have to be culled from time to time.'
Sure enough, later on we do see a couple of wild burros – a mother with a youngster, standing staring at us (below). The big-horned sheep remain elusive, though.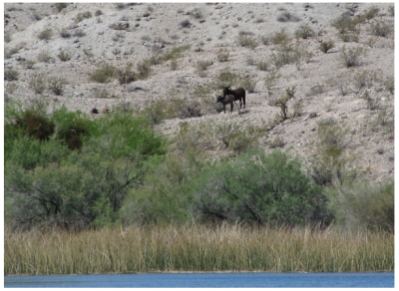 Topock Gorge
We enter the Topock Gorge which runs for about 17 miles through the Wildlife Refuge. It's a rugged and rocky gorge forming the sides of the river. The sides aren't high but they are certainly dramatic, with those spiky Needles Mountains beyond. They were created by volcanic activity so are mostly lava rock. We see a rock called the Gunsight, one of many curiously-shaped features which have names that were given to them by riverboat captains. 

Swallows and Petroglyphs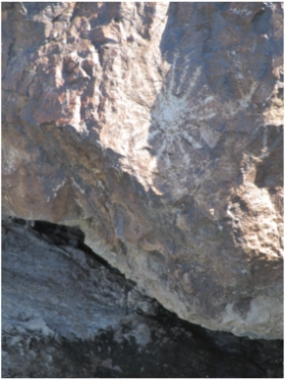 The Colorado River ride has too many highlights to be able to mention them all. One was seeing dozens of swallows nesting just above the water, where the cliffs had cave-like recesses as the rocks met the water. Another highlight was sailing up to ancient petroglyphs, also just above the water line and close enough to touch, created by Mojave Indians about 3,500 years ago.

Where Desert Meets River
This unique South-Western landscape is all around us. We pull over at one point to see lots of red-barrel cactuses growing out of the rock faces on the banks of the river. They only grow in this part of the world and they are both endangered and protected.
Here we are at the very edge of the Mojave Desert, but almost on the edge of the Sonoran desert too. It's strange to see cactus growing by a powerful river like the Colorado, though not as strange as sailing by huge sand dunes (below), which look more like the Sahara Desert.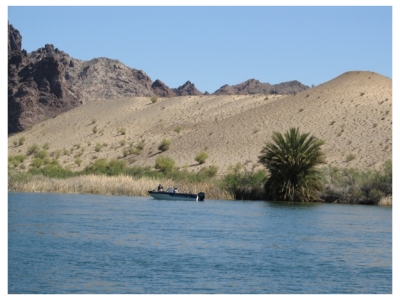 We ride back to Pirate Cove, going under the bridges that cross the Colorado here, and which took Route 66 and the Santa Fe Railroad from the east of the country to the western frontier. We balanced on the border between Arizona and California, which goes down the middle of the river, and arrived back at Pirate Cove refreshed and invigorated. We'd spent a couple of hours surrounded by history, and natural history, and natural beauty. The river ride had been both a pleasure - and a privilege.

Colorado River Rides: Details
Pirate Cove Resort and Marina
100 Park Moabi Road
Needles, CA 92363
Tel: 760/326-9000
Toll-free: 888/627-8532
Email: reservations@piratecoveresort.com

---
---
Nov 29, 23 07:10 AM

PCH Travel's intro to the Disneyland Resort, which includes both Disneyland Park and Disney California Adventure Park, just a few miles from the coast highway.

Nov 27, 23 04:20 AM

PCH Travel picks the best time to visit the Olympic Peninsula, with a monthly summary of the weather, plus hotel prices and special events to help plan a visit.

Nov 25, 23 07:03 AM

PCH Travel picks the best time to visit Santa Barbara, with a monthly summary of the weather, plus hotel prices and special events to help plan a visit.