Get Some Fun PCH Gifts Here
Forks, Washington
Forks is a small city in Washington State, known as the gateway to the Olympic National Park, and as the home for the Twilight series of books and movies.
All Photos (c) Donna Dailey
Forks might be small, with a population of under 4,000, but it's an important place in this part of the Olympic Peninsula. It's the logging capital of the region and although timber isn't as big a trade these days, it still goes on as you'll see when you drive through.
Forks also has a quirky charm to it, and is a delightful place to stop for an hour or two, or even to spend the night. You'll probably find lodging more affordable here than in the Olympic National Park itself. 
Forks and Twilight
Author Stephenie Meyer published the first novel in the series, Twilight, in 2005. It features a teenage girl, Isabella Swann, known as Bella. Bella moves to Forks where she falls in love with a vampire. When that book was first published, Forks had no idea what was about to hit it. The books have sold over 120 million copies worldwide, and fans come from all over the world to see the town where Bella lived.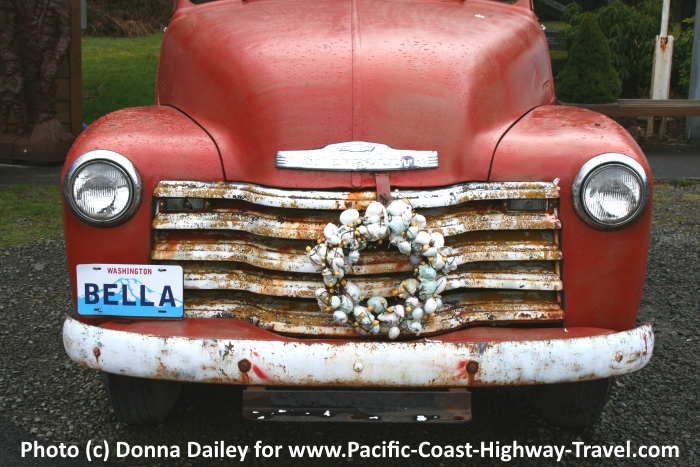 Why is Twilight Set in Forks?
The author has said that when she was planning the first novel, she wanted to set it somewhere which was incredibly rainy. She did some online searching and Google led her to the Olympic Peninsula. (You have been warned, if you're planning to visit.) It figures that as this area has the USA's only rain forest, it's going to be rainy.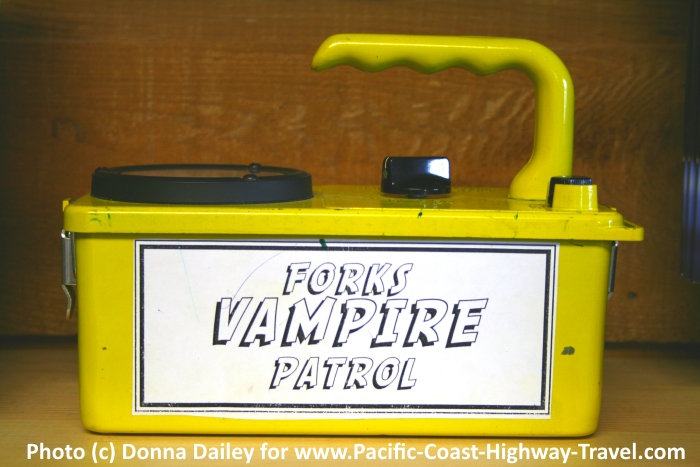 Meyer said that she also wanted a small community that was surrounded by forests, and while she was looking at maps she saw a place called Forks. She loved the name and then after searching through Google Images she knew she'd found the perfect setting for her book.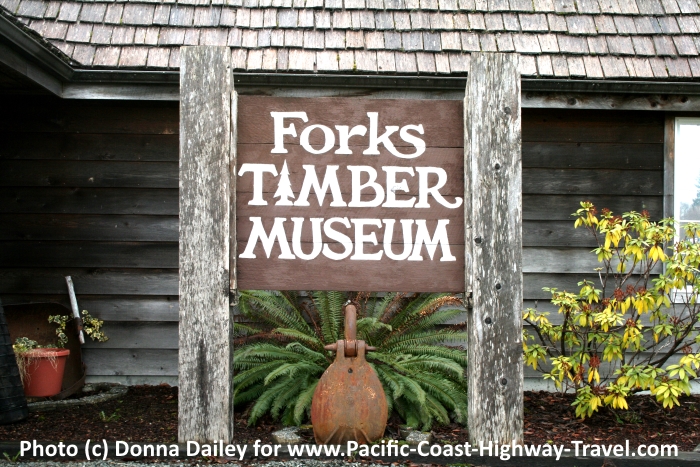 Forks Timber Museum
The small but very enjoyable Forks Timber Museum is on S. Forks Avenue, right next to the Forks Visitor Information Center. Not surprisingly it tells the story of forestry and logging in the area, with logging equipment and old photos on display. You'll also learn about the Native Americans of the Pacific Northwest.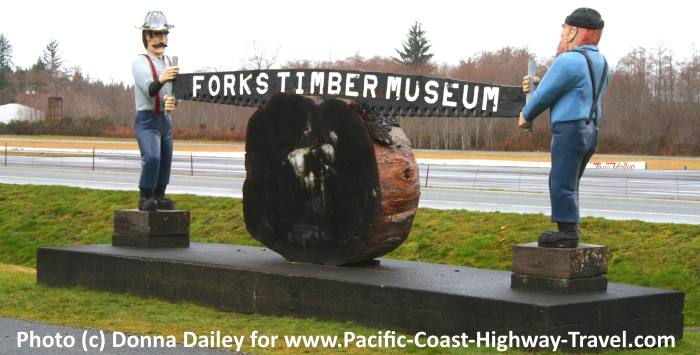 It also tells the story of the settlers who first came to this remote region, many of whom turned to logging for a living. Amazingly, until about 1900 these enormous felled trees were dragged out of the woods by carts pulled by oxen.
The museum building itself is also very interesting. It's a log cabin that was built in 1989 by local volunteers and members of the High School Carpentry Class. What a project!
Forks Loggers Memorial
Outside the Timber Museum is a memorial to all those who have lost their lives while logging in the forests, in what can be a dangerous occupation.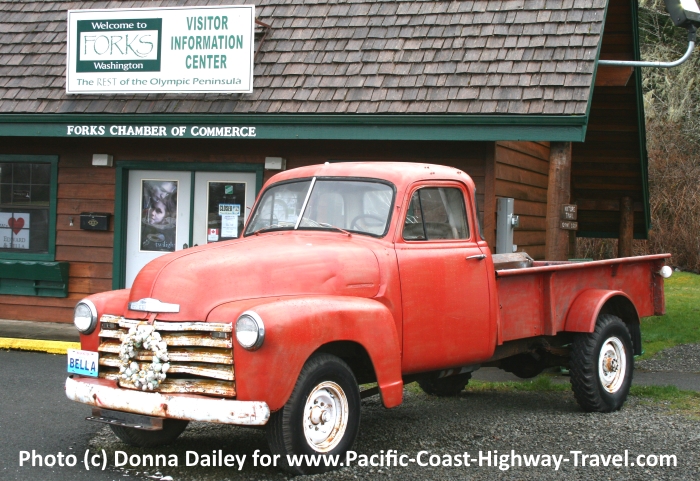 Forks Visitor Information Center
Along from the Timber Museum is the very welcoming Forks Visitor Information Center. It's in here you'll find information on Twilight, as well as where to stay and where to eat, and what else to do while you're in Forks and the area around it. And they've heard all the vampire jokes a hundred times.
Gateway to the Olympic National Park
If you're heading into the park then while you're in Forks pay a visit to the Olympic National Forest and Park Recreation Information Office on Tillicum Lane. Here you'll find maps, leaflets, information on hiking trails and so on. They'll also be able to tell you if there are any weather or traffic issues in the area.
Knives and Forks
You won't find fine dining in Forks but you will find a choice of good, home cooking in several places. You certainly won't starve. There are plenty of fast food places serving burgers or pizzas, if you want to eat quickly and move on. We had a great lunch at The In Place on South Forks Avenue, and Sully's Burgers further north on the same street was also highly recommended by people we spoke to while we were looking for somewhere to eat.
Where to Stay in Forks, Washington
As with dining, Forks is more a down-home than a high-end place. That's what makes it so appealing. It is what it is. There's nothing fancy but there are several good-value and well-run motels and b&bs, catering partly to the Twilight fans who still visit even though the last Twilight novel came out in 2008 and the last movie in 2012. We haven't yet stayed overnight in Forks so can't recommend anywhere from personal experience.
Accommodation in the National Park does get booked up in advance, so if you're traveling around with nothing booked then Forks is a good stand-by if you don't mind a modest motel.
Where to Stay in Forks
---
---
May 10, 23 09:47 AM

A food and drink expert charts the perfect course from San Francisco to Los Angeles.

Apr 26, 23 10:07 AM

California is home to some of the most diverse and beautiful natural landscapes in the world, making it a haven for outdoor enthusiasts. The state of California offers a wide range of outdoor activiti…

Apr 25, 23 11:08 AM

The latest study by Upgraded Points sets gas cars against electric vehicles to see which vehicle is truly the most economical on five American road trips. Examining the time and fuel costs along iconi…