Olympic National Park
At 922,651 acres, the Olympic National Park is one of the biggest and yet one of the least developed in the United States. Its remote location on a vast peninsula in the Pacific Northwest (west of Seattle and south of Vancouver Island) also means it is one of the least visited of America's National Parks. Yet it is one of the most scenically stunning, with glacier-covered mountains in the interior that are as rugged and almost as hard to access today as they have ever been.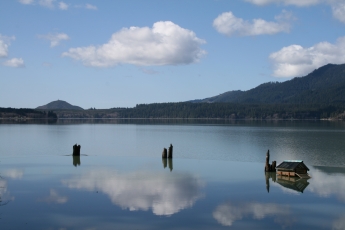 Lake Quinault in the Olympic National Park, Photo (c) Donna Dailey.
The History of the Olympic National Park
The Olympic National Park began life as the Olympic National Monument in 1909, and was designated a National Park in 1938. In 1976 it became an International Biosphere Reserve, and then in 1981 UNESCO declared it a World Heritage Site. Further protection to the land was provided in 1988, when large parts of the Olympic Peninsula became the Olympic Wilderness.


The Pacific Coast Highway
The Pacific Coast Highway, or U.S. 101, almost encloses the Olympic National Park and the adjoining Olympic National Forest, making it easy to get to, and the Park's six entrances are permanently open. Good roads don't go very far into the National Park, and its main attraction is as a spectacular place for hiking.

Bobcat in the Olympic National Park
Wildlife in Olympic National Park
When you see a marmot here, familiar from many places in North America, you might in fact be looking at a unique species. The Olympic Marmot is found nowhere else on earth. It's one of what they call the 'endemic 16', 16 species of plants and animals that are found nowhere else in North America.This high number is due to the act that in prehistoric times the area was cut off from the rest of the continent by glaciers.
Roosevelt Elk Herd
For this same reason, though, other animals that are common elsewhere, like the grizzly bear, are not found even today in the National Park. Wild goats are common too, and you might be lucky enough to see a Roosevelt Elk, a type of elk only found in the Pacific Northwest. Deer are more common, particularly the Colombian black-tailed deer.

Best Times to Visit Olympic National Park
About 75% of the Park's visitors enter the Park from June through September, which is also when the weather is at its best. The scenery is magnificent here, so most people want to visit during the summer months when skies are usually clear and there's less chance of rain.
That said, it can rain at any time of year here, so dry days are not absolutely guaranteed, even in July and August. Most rain does fall from November through April, though, so if you want to avoid the crowds (such as they are) and have a chance of good weather, then May/June, September/October can be good times to visit. They can be cold, so go prepared, and even damp and misty days here can be very atmospheric and scenic too.

---
---
Oct 06, 21 03:29 AM

The Pacific Coast Highway is California's longest state route at 656 miles (1,055 kilometres) and runs along the Pacific Ocean, making it arguably one of the prettiest drives in the United States. Fou…

Oct 06, 21 03:29 AM

United Airlines just made a lot of friends among cycling enthusiasts. The Chicago-based carrier has eliminated its fees for passengers traveling with their bicycles, joining fellow airlines American a…

Sep 30, 21 03:15 AM

Best Tours & Travel's recent reopening saw sellout tours and a continuing recovery in its private charter operations, thanks to nonstop outreach throughout 2020's shutdown months that continues today.