Washington Coast Hotels,
Inns, Guesthouses, B&Bs,
and Other Places to Stay
The Washington coast has a great choice of hotels, inns, guesthouses, b&bs, RV parks, campsites, and everything from luxury resorts to city hotels, from boutique hotels to budget motel and hotel chains. Below are a few of our choices of the best hotels and inns on the Washington Coast. We've either stayed at them ourselves or had them recommended to us.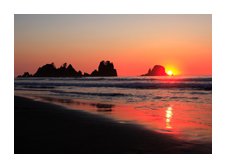 CITY HOTELS
OLYMPIC NATIONAL PARK
Where to Stay In and Near the Olympic National Park
RV PARKS

UNIQUE INNS
Unique Inns on the Pacific Coast Highway
(In Washington, Washington, and California)

---
---
May 21, 19 02:22 AM

Check out the new live Jelly Cam at the Monterey Bay Aquarium! Note that it only operates 7am-7pm Pacific Time, otherwise you get a pre-recorded YouTube video... which is still cool to see.

May 20, 19 03:36 AM

Stunning hotels that'll ensure you get the very best from one of the world's finest road trips.

May 16, 19 07:31 AM

Where to find the best hamburgers along the California coastline!