Get Some Fun PCH Gifts Here
Westport, Washington
Located on a peninsula, Westport is a small fishing town in Washington State with the largest marina in the Pacific Northwest.
Westport is easily reached if you take a 20-minute diversion off the Pacific Coast Highway on WA-105 from Aberdeen.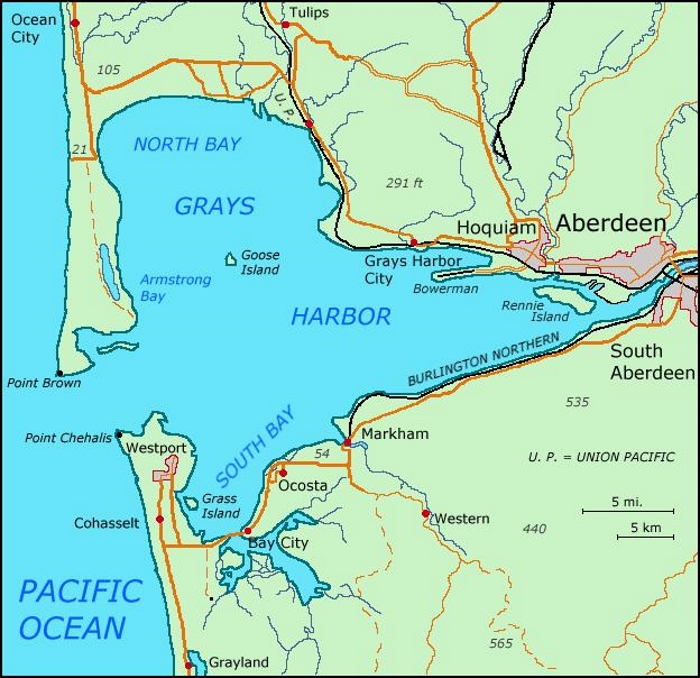 What to Do in Westport
The lighthouse was built in 1897-98 and at 107 feet (32.6 metres) is the tallest lighthouse in Washington. You can discover just how tall that is if you visit the lighthouse and choose to climb to the top. You use the original iron staircase, and it's 135 steps up to the lantern room. Here you can see the original 1895 Fresnel lens which was built in France and shipped to Washington.
Sport Fishing
This is extremely popular, and easy to arrange. Head to the marina and compare the options on offer.
State Parks
There are several state parks close to Westport. One of the most popular is Westport Light State Park, to the west of town. Here you can take the Dune Trail, a 1.3 mile (2.1 km) paved walkway that takes you through the dunes to Westhaven Jetty. A couple of miles south of Westport is Twin Harbors State Park, which covers 225 acres (91 hectares) and has lots of beach trails to explore. It also has cabins, yurts, camping, and RV sites.
A further 5 miles (8 kms) beyond Twin Harbors in the town of Grayland is Grayland Beach State Park. This covers 581 acres (235 hectares), a lot of it oceanfront, with walking trails, yurts, and camping/RV facilities.
The museum spreads over five buildings on Westhaven Drive in the 1939 former Coast Guard station and is run by the Westport-South Beach Historical Society. One of the most eye-catching exhibits – well, you can't miss it – is the massive Destruction Island Lens. This is from the lighthouse on Destruction Island, which is north of Westport. It was built in France in 1888 and shipped all the way to Destruction Island.
There are also displays on the maritime history of the area, pioneer life, the Coast Guard, and in the grounds are the skeletons of two whales and part of a blue whale.
Whale Watching
If you want to see live whales rather than skeletons, book a whale watching trip. Several companies run them so just head down to the marina to see what's on offer. February-May is the time of year that gray whales pass by.
Where to Stay in Westport
---
---
Sep 26, 23 04:18 AM

The Iconic Big Sur Waterfall Everyone Needs to See At Least Once

Sep 24, 23 05:26 AM

Pacific Coast Highway Travel picks the best restaurants in Santa Cruz, choosing the finest gourmet eating places, with both local and international cuisine.

Sep 24, 23 04:17 AM

Pacific Coast Highway Travel visits the Big Basin Redwoods State Park, which is the oldest state park in California.