Frommers Guide to California
With Free Foldout Map
California here we come. As I write this we're planning our own 2009 trip along the entire Pacific Coast, and using the new Frommer's Guide to California 2009 to help in the planning of the southern section – along with a shelf full of other material too. Actually, right now it's an office floor full of other material, to be honest.

Update!
This review is of the older 2009 edition of this guide but keep reading and see the links at the bottom to newer updated versions.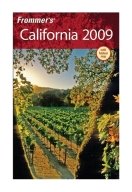 We have especially been using the Frommer's Guide to California 2009 for planning where to stay and thinking about where to eat. The hotel and restaurant reviews and descriptions are among the best things about the Frommer's guides, as they go into some depth so that you do get a feel of whether you want to stay in a place or not, and where are the eating places that appeal to you the most. Everyone's different, we know that from the feedback we get from this website, so it's important to have a broad range of coverage, from cheap to luxury, from homey to gourmet, from Days Inn to the Biltmore. Frommer's pleases us because it does that.
Even with nearly 800 pages (or 3 cents a page!) it's impossible to cram all California into one book, but the Frommer's team of several writers does a heck of a job. How much space do the main places get?
San Diego and Environs – 74 pages
Los Angeles – 124 pages
Side Trips from Los Angeles – 53 pages
San Francisco – 85 pages
Wine Country – 36 pages

So you do get pretty comprehensive coverage of the major California visitor destinations.
The Authors
Harry Basch has contributed to the Frommer's USA guide, and is the author of the RV Vacations for Dummies book.
Mark Hiss is a writer and photographer who has spent more than 25 years in San Diego, and has been a publicist for several of San Diego's top theater companies.
Erika Lenkert is a native San Franciscan and has written for publications including Travel + Leisure, Food & Wine, Time Out, and San Francisco Magazine.
Matthew Richard Poole is also a native Californian and has written many guides to California, Hawaii and places abroad, as well as other Frommer's titles like Portable Disneyland, Portable Los Angeles, and the Irreverent Guide to San Francisco.

Maps
There's the usual pull-out map inserted at the back of the book, and within the California guide there are 46 more maps. These include a map showing suggested itineraries, including Driving the Pacific Coast Highway in One Week – though it's only the section from San Francisco to Big Sur. Another One-Week itinerary, for the Food and Wine Lover's Movable Feast, has our mouths watering, including visits to Napa Valley and eating your way through San Francisco's Chinatown.
There are five maps for the San Diego area alone, including a useful plan of Balboa Park, and seven maps of in and around San Francisco. These include separate maps of the Sights, Dining, and Accommodation recommendations. There are two maps for the Wine Country, including one for the Northern Sonoma Wineries. Other useful maps include the Redwood National and State Parks, Death Valley, Joshua Tree, Yosemite, Sequioa and Kings Canyon National Parks, the Monterey Peninsula, and the Big Sur Coast.
The Best of California
The Frommer's Guide to California 2009 sticks to the Frommer's format and suggests the Best of California right up-front. Now with the third biggest state in the nation, that's a lot of ground to cover and there are fourteen separate 'Best of' lists. These include Best Beaches, Best Golf Courses, Best Family Vacation Experiences, Best Luxury Hotels and Resorts, Best Restaurants and Best Culinary Experiences (the latter includes things like markets, eating dim sum in San Francisco, and oyster farms.)

The Bottom Line
For all these reasons and more, the Frommer's Guide to California 2009 is proving invaluable to us in organizing our own Pacific Coast Highway trip. It's a great travel planning tool. We'll probably take it on the road with us too, and check out just how accurate it is when in use. Any problems, we'll report back. Meanwhile, it's a big thumbs up.

Buying the Book
This review is of the 2009 edition but the guide is updated regularly and you'll want to get the latest edition:

| | |
| --- | --- |
| USA Paperback | UK Paperback |
Here are some other recent California guides to consider:
---
---
May 03, 18 09:49 AM

Check out these amazing things to do in Monterey, suggested by Visit California.

Apr 30, 18 12:00 AM

San Francisco Events in May 2018: Mother's Day, Memorial Day Weekend, & Other Things to Do this Month

Apr 24, 18 12:00 AM

A Guide to Make the Most Out of Your Day in this Famous San Francisco District