Visiting Golden Gate Park
Get Some Cool PCH Gifts Here
Visiting Golden Gate Park

Pacific Coast Highway Travel's advice on visiting Golden Gate Park in San Francisco and seeing its museums, gardens, lakes, buildings, and even bison!
Visiting Golden Gate Park in San Francisco is definitely up there with the best things to do, including visiting the Golden Gate Bridge and visiting Alcatraz.
There's so much to see, though, that you should allow at least a day for your visit, and preferably more. It does cover an area of 1,017 acres, after all. That's 20% bigger than New York's Central Park! 
To help you choose, here's our list of the best things to see in Golden Gate Park. They're in no particular order.
Visiting Golden Gate Park's Museums

Two of the park's major attractions are the California Academy of Sciences and the de Young Museum. You can find out more about both of these attractions on our page of the Ten Best Things to Do in San Francisco.
Where to Eat in Golden Gate Park

Lots of locals like to picnic in Golden Gate Park, and if you're planning on spending a few hours there then you could do the same. There's no shortage of great picnic spots!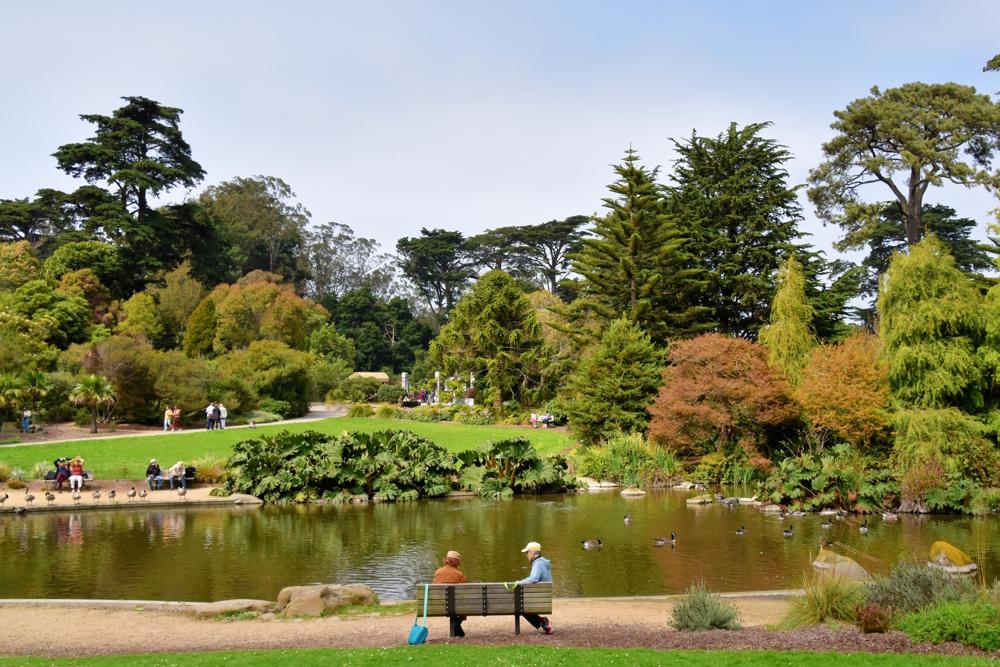 However, there are also lots of eating places, including two restaurants in the Beach Chalet Visitor Center at 1000 Great Highway. On the ground floor is the Park Chalet Restaurant, while upstairs with impressive views of the Pacific is the Beach Chalet Restaurant and Brewery. Check the websites for opening hours and menus, and also to find out if they're holding any special events while you're visiting.
You should also go to the Visitor Center to see the outstanding murals on the walls, which were painted by artists during the Great Depression as part of the Federal Art Project, which was a division of the Work Progress Administrations (WPA).
There are several other eating options, including food trucks, and if you only want a quick snack there are five locations where you'll find Annie's Hot Dogs and Snacks.
Japanese Tea Garden

You can also get a bite to eat in the Japanese Tea Garden in Golden Gate Park. This is the oldest such garden in the country, having been made in 1894 for the California Midwinter International Exposition. It covers an area of 3.5 acres with paths through the gardens and trees. It's especially beautiful in the spring when the many cherry trees are in blossom. You can find out more on the official website, and download a map here.
Conservatory of Flowers

The impressive Conservatory of Flowers is the oldest building in Golden Gate Park, having been built back in 1879. There are over 1,700 plants inside including a collection of rare orchids, carnivorous plants, giant water lilies, and a potted plants gallery where the plants are in pots that have been designed by artists from all over the world. Find out more on the official website.
San Francisco Botanical Garden 

55 acres of Golden Gate Park are given over to the San Francisco Botanical Garden, which has 8,000 different varieties of plants and trees from all over the world on display. You can see California's coastal redwood trees, visit cloud forests, and see their special collections of rhododendrons, magnolias, and more. Learn more on the official website.
Lakes and Oaks

There are several lakes in the park, and even a couple of waterfalls. These are artificially created falls, but still not something you expect to see in the middle of a city. There are also several groves of trees to enjoy, and get some shade on a sunny day. These include some natural oak woodlands, with some of the oldest oak trees remaining in the city.
Windmills

Golden Gate Park is full of surprises, especially if you haven't done your homework and read up on it before visiting. No-one would expect to find windmills in a city park, but at the western end of the park there are two of them. They were built in 1902 and 1907 to pump water to help irrigate the park's lawns and gardens, transforming them from the sand dunes that had originally been there.
Music Concourse

You'll find the Music Concourse between the California Academy of Sciences and the de Young Museum. There are free concerts on summer Sundays, but otherwise it makes a great place for a picnic.
Bison Paddock

And finally, yet another surprise to the visitors who don't know it's there. Who would expect to turn a corner and find a herd of bison grazing in a meadow? In fact there have been bison in the park since 1892, and you can find them along John F. Kennedy Drive, to the southwest of Spreckels Lake.
Where to Stay in San Francisco
---
---
Mar 29, 23 10:55 AM

The closures will affect a part of the highway near Diamond Street in Laguna Beach, the city said.

Mar 29, 23 10:55 AM

California is famed for its sunny energy and beautiful beaches. Discover all the Golden State offers on a road trip along the Pacific Coast Highway.

Mar 24, 23 12:33 PM

Pacific Coast Highway Travel's guide to Washington coast charging stations for electric vehicles along Highway 101 from Oregon and around the Olympic Peninsula.