Road Food Guide:
West Coast Road Eats
'The best road food from San Diego to the Canadian border' is what this road food guide, West Coast Road Eats, promises. It's written by Anna Roth, an award-winning food and travel writer, who must have plenty of chance to do in-depth research as she travels back and forth between her two homes, in Los Angeles and Seattle. She's also the Managing Editor of the eHow Food website - not bad credentials for what could be a very useful book for Pacific Coast Highway drivers.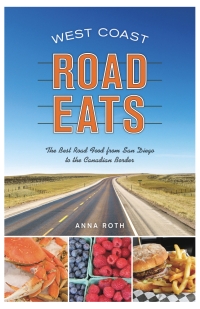 In her travels, the author has covered over 1500 miles of West Coast roads, and describes hundreds of road food stops. These range from seafood shacks and burger joints to ice cream parlors, wineries and brew pubs. The guide covers Highway 1, Highway 99, and Highway 101, as well as Interstate 5 for those who might want to take the faster inland route from time to time. There are also some diversions off the West Coast included too.

Road Food Guide Reviews
The bulk of the book's 350 pages are given over to no-nonsense in-depth reviews of the road food places the author recommends. Each review begins with the name, address, milepost or exit number, phone number, website, and finally opening hours (though obviously these are sure to change over time.) There then follows a lengthy one-paragraph write-up, and most of these are as full of flavor as the foods the author's describing. Roth is no food snob. She enjoys everything from the simplest of places, like Tito's Tacos in Culver City, to a few gourmet inclusions, such as Nepenthe in Big Sur - which she admits is pricey, but sometimes a treat is worth it. 

The Price of Good Road Food
The only thing missing from West Coast Road Eats is information about prices. In many ways this is understandable, as prices can change quickly and most places in this book will definitely be in the budget category. However, it would have been helpful to have an idea what a meal might cost in the non-budget places that are also included. For Nepenthe at Big Sur the author does mention prices, with Entrées climbing into the $30 range. On the other hand, for La Bicyclette bistro in Carmel we're told that it certainly isn't a 'cheap eat', but only that it is about $10 cheaper than other similar places, with some wines at under $10 a glass. It may say something about Carmel, that there is only one other entry for the town: the Carmel Bakery. By contrast there are six entries for Santa Barbara, and six for Solvang. The lack of prices isn't a major problem. You know most places in a road food guide will be affordable.

Side Courses
In addition to all the very helpful reviews, there are lots of extra boxes of information about food and drink. These include, for example, a Portland Brewery Pub Crawl, the Sonoma County Farm Trails, Cannery Row, and local specialities such as the Santa Maria Barbecue, Monterey Jack Cheese, and California Olives.

Road Food Guide Verdict
The verdict on West Coast Road Eats is easy. Buy it. This is one which, instead of going on our bookshelves for reference, is going straight into the glove compartment for the next PCH road trip. We just know we'll be using it.

Buying This Road Food Guide
West Coast Road Eats by Anna Roth costs $22.95 in the USA and is available on Amazon. There is also a Kindle edition.

| | | |
| --- | --- | --- |
| US Paperback | US Kindle | UK Paperback |
---
---
Nov 10, 16 01:06 PM

Pacific Coast Highway travel offers advice on driving from LA to Hearst Castle, including distance, journey time, and route, whether taking the coastal route or driving the I-5 Interstate.

Nov 10, 16 12:58 PM

Here are the basic facts if you plan to drive the Pacific Coast Highway,including which direction,can you drive it in a rental car, how long will it take and when is the best time to go driving.

Nov 10, 16 12:52 PM

Drive times and distances on the Pacific Coast Highway or the quickest routes from Seattle to San Francisco to Los Angeles to San Diego, given in miles and the driving time it takes.