Cannery Row, Monterey
Any travelers looking for Monterey's Cannery Row when John Steinbeck first published his novel would have been disappointed as it didn't exist. Steinbeck's place was a fictionalised version of a real Monterey street named Ocean View Avenue. It was re-named Cannery Row in 1953 in honor of Steinbeck's novel.


Photo (c) Donna Dailey
Cannery Row is a more accurate name than the more optimistic
Ocean View Avenue, if you take into account how Steinbeck described it in his novel: 

"... chipped pavement and weedy lots and junk heaps, sardine canneries of corrugated iron, honky tonks, restaurants and whore houses, and little crowded groceries, and laboratories and flophouses."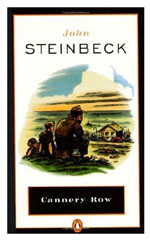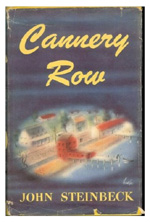 The first canneries were built here in Monterey in the late 19th century, to can salmon, but they quickly switched to canning the sardines that were more commonplace in Monterey Bay. The business flourished so much that at one time there were 18 canneries along this same street, employing thousands of workers. It was the poorer transients, the co-workers and the no-workers, the bums and the good-time girls, who interested Steinbeck. His affection for them shines through the book.
John Steinbeck's novel Cannery Row was published in 1945, following on from his earlier great successes with Tortilla Flat (1935), Of Mice and Men (1937) and The Grapes of Wrath (1939). Tortilla Flat first introduced the characters of Cannery Row, and so popular were they with both the public and their author that Steinbeck continued the adventures, and introduced some new characters, in his 1954 novel Sweet Thursday. No visit to Monterey is complete without reading at least one of Steinbeck's tales, with Cannery Row probably the best of the three.
And before visiting Cannery Row or California generally, Steinbeck fans should read our review of this John Steinbeck California Guide.
Ed Ricketts
Steinbeck's great friend, the marine biologist Dr Edward F. Ricketts, appears both as himself and in disguise as other characters in Steinbeck's fiction. Ed Ricketts was also Steinbeck's companion in the sea journey they made in the Gulf of California (also known by the more evocative name of the Sea of Cortez) which Steinbeck described in his book, The Log from the Sea of Cortez. 

Ed Ricketts' marine laboratory, the Pacific Biological Laboratories, can still be seen (but not visited) at 800 Cannery Row from 1928 to 1948.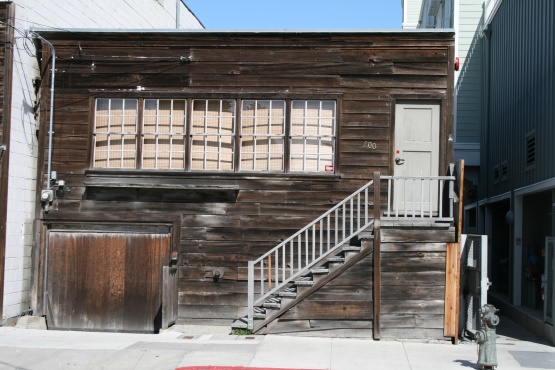 Ed Ricketts' Laboratory on Cannery Row
Photo (c) Donna Dailey
Cannery Row Today
The last working cannery in Cannery Row closed in 1972, with over-fishing having wiped out the Monterey Bay sardine stocks. This was the Hovden canning plant, but within a few years the plant had been turned into the impressive Monterey Bay Aquarium. The crowds the Aquarium attracted helped develop Cannery Row, and Monterey, as a popular tourist destination. Today there are hotels where there were flophouses, real chic restaurants replace Steinbeck's Bear Flag Restaurant, and the decline in the sardine population has been replaced by an increase in the population of California sea lions, thanks to the area being made into a marine sanctuary.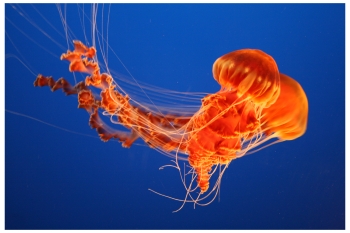 At the Monterey Bay Aquarium
Photo (c) Donna Dailey
---
---
Sep 20, 17 07:50 AM

Travel planning and visitor information for the USA Pacific Coast Highway with free advice from two award-winning travel writers on driving, where to stay, what to see, places to go, where to eat.

Sep 14, 17 03:45 AM

Read the news from Conde Nast Traveler

Sep 13, 17 04:48 AM

Pictures of Santa Monica from Pacific Coast Highway Travel to help anyone thinking of staying in Santa Monica on their PCH drive.