Bicycling the Pacific Coast: Book Review
Bicycling the Pacific Coast was first published in 1998, and has been updated for the most recent edition which came out in 2012. It's a comprehensive and fully-indexed 272-page book that covers every mile of the 1987.3 mile Pacific Coast Bicycle Route between Vancouver and the Mexico border.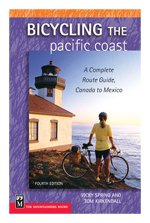 And when we say every mile, we mean it. The book is divided into 42 do-able days, averaging 52 miles a day, and every section comes with a detailed mileage log telling you exactly what you need to know in order to make the trip. After 2.4 miles you come to a small town with a grocery store. After 10 miles you reach a residential street which forks and you take the left fork. After 15 miles there are rest rooms. After 21.5 miles there's a bike shop. It really is that detailed.
Bicycling the Pacific Coast isn't just a mile-by-mile guide to the PCH, though. It's also a travel guide, listing the attractions you'll see on the way, and the diversions that are worth making. Plenty of practical, personal information too, like this about the Oceano County Campground near the Pismo Dune Reserve: 'Keep valuables, touring bags, and food stored well out of reach of the flock of marauding ducks and thieving raccoons.'
The information is so detailed that you're in no doubt about the fact that the authors have pedaled the whole route themselves, and kept the book thoroughly up-to-date. Even so, it's now almost four years since the author's last trip, so you will want to double-check some of the important information in advance, especially if you're relying on campsites or hostels for overnight stops.
The authors don't pull any punches on which stages of the Pacific Coast Highway are the worst, where there's absolutely no option but to ride along a busy highway. But their routes keep that to the absolute minimum, and they're in no doubt at all that the Pacific Coast Bicycle Route is 'the best long-distance tour in the country' along 'the world's most scenic coastline.' And this book will be indispensable for anyone planning to make that Pacific Coast journey.
Bicycling the Pacific Coast

A Complete Route Guide, Canada to Mexico
By Vicky Spring and Tom Kirkendall

The book is available at Amazon USA, as a Kindle edition, and at Amazon UK.

| | | |
| --- | --- | --- |
| Kindle Edition | USA Paperback | UK Paperback |
---
---
Mar 12, 18 03:07 PM

The Pacific Coast Highway goes right through Laguna Beach, a relaxed artsy beach resort town between Los Angeles and San Diego. Located about 80 miles from San Diego, its attractions include shopping…

Mar 09, 18 06:34 PM

The Pacific Coast Highway goes right through Huntington Beach, otherwise known as Surf City USA and a popular beach resort town between Los Angeles and San Diego. It's about 40 miles from LA and 90-10…

Feb 28, 18 10:24 AM

Lots of people have recently been choosing their Best West Coach Beaches, Best Beaches in the World and Best California Beaches so Pacific Coast Highway Travel has listed the best of the best.