Visiting Hearst Castle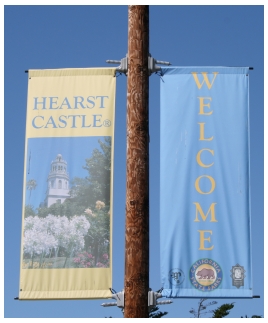 Our Visiting Hearst Castle page gives all the practicalities for planning a visit to Hearst Castle, which is one of the very best things you can do along the Pacific Coast Highway. Here we give the practical advice including the location, where best to stay, the types of tour on offer (including daytime and evening tours), the length of tours, how long to allow for your visit, where to book tickets, and much more information for planning that essential visit to Hearst Castle.
Visiting Hearst Castle: Tour Choices
There are several tour choices available, each highlighting a different aspect of this amazing place. From time to time there are also special interest tours, such as one aimed at photographers, and another showing life behind the scenes in keeping the castle running. In summer there are also tours of the gardens.
Hearst Castle Evening Tours
On some evenings in Spring and Fall it's possible to enjoy a magical experience and tour Hearst Castle as the sun is going down. Costumed actors create the feeling of a party happening at Hearst Castle, just as William Randolph Heart held them with his celebrity guests. For a full account of our impressions of an evening tour, visit our Hearst Castle Evening Tours page.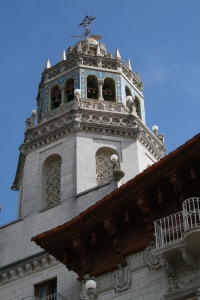 Visiting Hearst Castle: Practicalities
Taking a tour is the only way to visit Hearst Castle. Tours usually last about 90 minutes or so, including the time it takes to get to and from the Castle, which is at the top of a hill five miles from the Visitor Center. At the Visitor Center you collect your pre-booked ticket, and board the bus at your tour time. Announcements are made, to make sure you don't miss the bus. Bear in mind, though, that there are also things to see in the Visitor Center itself, and a large and interesting gift shop.

You might want to try to get there at least an hour before your tour as a fascinating and informative 40-minute film, Hearst Castle: Building the Dream, is shown every 45 minutes throughout the day in the theater. Check the showtimes in advance on the Hearst Castle Theater page of their website. If you are on an early tour or you don't get there in time to see the film before your tour, then do allow time afterwards as it does enhance your visit enormously.

In total, then, you should plan to spend about three hours at Hearst Castle, and it's impossible to do it in less than two hours. If it's a subject you're really interested in, you might also consider taking more than one of the daytime tours.

There are two other things to bear in mind. One is that the tours involve a lot of steps, so if you have any doubt about your ability to take one, phone Hearst Castle first. The other factor is that the Castle stands at a height of 1600ft, which is enough for it to be cooler than it is down at the Visitor Center. You'll feel the difference on cool days.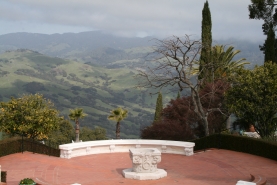 Visiting Hearst Castle: Location
The entrance to Hearst Castle is in the little town of San Simeon, right on the Pacific Coast Highway. It's well sign-posted on your right about 9 miles north of Cambria (allow 15 minutes). Drive into the large parking area and then go into the Visitor Center to collect your pre-booked tickets. We recommend leaving heavy bags in your car.
DRIVING FROM LA
If you're visiting Hearst Castle from Los Angeles, see the detailed driving advice on our LA to Hearst Castle page.
Where to Stay
There are several hotels in San Simeon, where Hearst Castle is located, including a really nice Best Western that we've visited. We usually stay in Cambria, though, which we enjoy as it's a lively little place. See Our Cambria page for several hotel recommendations.
Booking Hearst Castle Tours
You must book in advance for tours if visiting Hearst Castle, as places are limited and the tours are extremely popular. Learn more and book your place on the Hearst Castle Tours page of their website.

---
---
Nov 10, 16 01:06 PM

Pacific Coast Highway travel offers advice on driving from LA to Hearst Castle, including distance, journey time, and route, whether taking the coastal route or driving the I-5 Interstate.

Nov 10, 16 12:58 PM

Here are the basic facts if you plan to drive the Pacific Coast Highway,including which direction,can you drive it in a rental car, how long will it take and when is the best time to go driving.

Nov 10, 16 12:52 PM

Drive times and distances on the Pacific Coast Highway or the quickest routes from Seattle to San Francisco to Los Angeles to San Diego, given in miles and the driving time it takes.