Big Basin Redwoods State Park
Get Some Fun PCH Gifts Here
Big Basin Redwoods State Park

Pacific Coast Highway Travel visits the Big Basin Redwoods State Park, which is the oldest state park in California.
The Oldest State Park in California

Big Basin Redwoods State Park was established in 1902, which makes it the oldest state park in California. The oldest state park in the USA, by the way, is Niagara State Park in New York, which was established in 1885.
Big Basin Redwoods State Park - the Redwoods

Though there's much else to enjoy, it is of course the giant redwoods that bring people to the park. The trees are quite simple awesome. Some are from 1000-1800 years old, which is why 2020's fire was so devastating. Fortunately, although the fire swept through 97% of the park's area, most of the old-growth trees survived. It took more than a fire to destroy these huge beauties, some of which are thought to date back to the time of the Roman Empire.
The redwoods grow up to 50 feet (15m) in circumference, and up to 378 feet (115m) tall. They're on a scale that is hard to imagine. The only way to understand just how big they are is to see them, and even then it's hard to believe what you're seeing. To say they make you feel small and insignificant is an understatement.
How Big is Big Basin Redwoods State Park?

Big Basin Redwoods State Park covers an area of 18,000 acres (73 sq kms). Of this, 10,800 acres (44 sq kms) is old-growth forest. There are also 81 miles (130 km) of hiking trails, a hiker's dream. One of the most popular is the Redwood Loop Trail, a flat path of only 0.6 miles (1 km), which nevertheless allows the visitor to see some of the largest and oldest redwoods in the park.
How Long to Spend in Big Basins Redwood State Park?

That's easy. As long as you can spare. You'll certainly want to spend all day there, given the diversion it takes out of your Pacific Coast Highway road trip. If you like hiking then we'd recommend a couple of days. You could spend a night in one of several places along Highway 9, between Santa Cruz and the park, then you've only got a drive of maybe 30 minutes to and from the park entrance.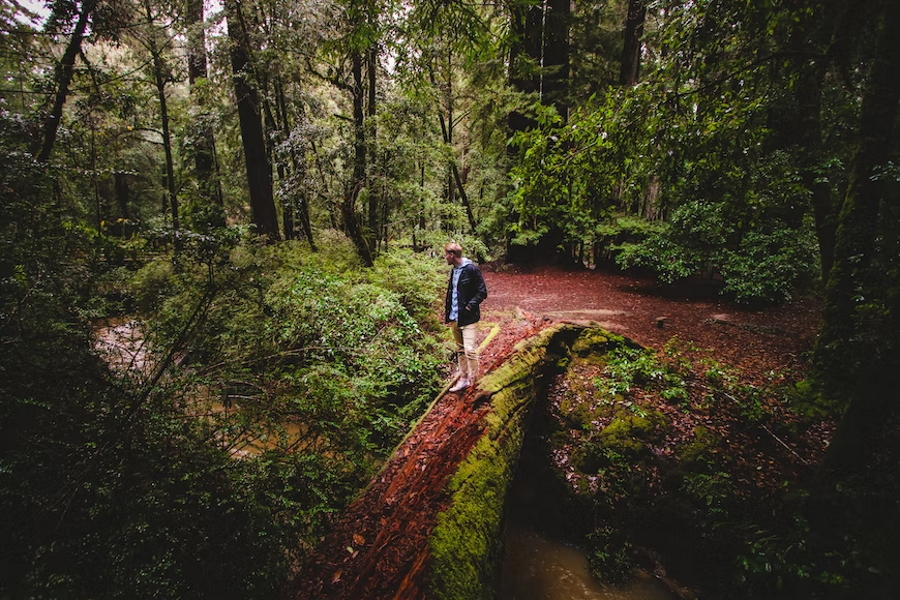 What to See and Do in Big Basin Redwoods State Park?

As well as the hiking trails, there are biking and horse-riding opportunities too. If you arrive at the park on foot, by bike, or on horseback, you don't have to pay any fee to go in. There are waterfalls and canyons to see, and abundant wildlife, recovering after the fire.
Watch out for deer, coyotes, squirrels, foxes, bobcats, raccoons, and chipmunks. There are cougar here but it's highly unlikely you'll see one. There are no bears in the park, although the last known human to die after being attacked by a grizzly in California was here in Big Basin back in 1875.
There are plenty of birds to watch for too, including jays, woodpeckers, hummingbirds, flycatchers, and sharp-shinned hawks. There are Pacific rattlesnakes in the park but you would be highly unlikely to encounter one if walking the redwood groves as it's simply not their kind of habitat. They keep themselves to the high, dry chaparral terrain.
Getting to Big Basin Redwoods State Park

The park is about an hour's drive north of Santa Cruz. If you're driving the Pacific Coast Highway it will mean a diversion inland, and then returning to the coast. In distance it's only about 25 miles (40 kms) but the roads are slow, climbing, and winding.
Check out the details on the official website. No over-sized vehicles are allowed, there's no cell phone service in the park so don't even consider Uber, and you will also need to book your parking spot in advance as space is currently limited.
You can also take the bus from Santa Cruz to the park entrance during the summer months. Check this page.
San Francisco to Big Basin Redwoods State Park
If you're flying into San Francisco International Airport, then the state park is only a 90-minute drive away. If you arrive early enough in the day, then it's a terrific drive to head from the airport to the park, spend a few hours there, and then drop down into Santa Cruz.
To do this means forfeiting the coastal drive, but hey - you're coming back anyway, right? So do that next time.
Rancho del Oso

If time doesn't permit you to make the detour to Big Basin, then the park does have a small part of it which is on the coast, 17 miles (27km) north from Santa Cruz. This is Rancho del Oso, and is worth a stop even if you have visited the main part of the park. 
It's right off the Pacific Coast Highway, opposite Waddell Beach. It doesn't have a huge sign, and you can't see it anyway if coming from the south, so keep your eyes peeled and your speed down.
Rancho del Oso became part of the main park in the 1970s. It also has redwood groves, along with pine forests, creeks, waterfalls, marches, and hiking trails that range from 1 mile (1.6 km) to 13 miles (21 km). You can learn more here.
Rancho del Oso on YouTube

This is a fairly recent video of Rancho del Oso, since it re-opened after the fire. Like the main park, it's not yet fully back to normal, but it's still got plenty to offer.
Where to Stay Near Big Basin Redwoods State Park

As we said above, you could stay in one of several places along Highway 9, that takes you from Santa Cruz to the park entrance. This could halve the driving time between the two places. On the other hand, Santa Cruz itself gives you much more choice of places to stay and places to eat, and it only an hour from the park. Given the chance, we'd tag on an extra night in Santa Cruz and allow a full day for a visit to the park.
Normally there is camping in the park but with the new openings with restricted facilities, the campsites are currently closed.
---
---
Nov 29, 23 07:10 AM

PCH Travel's intro to the Disneyland Resort, which includes both Disneyland Park and Disney California Adventure Park, just a few miles from the coast highway.

Nov 27, 23 04:20 AM

PCH Travel picks the best time to visit the Olympic Peninsula, with a monthly summary of the weather, plus hotel prices and special events to help plan a visit.

Nov 25, 23 07:03 AM

PCH Travel picks the best time to visit Santa Barbara, with a monthly summary of the weather, plus hotel prices and special events to help plan a visit.