Maps of the




Pacific Coast Highway
Good road maps of the Pacific Coast Highway are obviously essential for anyone planning to drive the trip. If you want to buy a PCH map, the Amazon box takes you to some of the best ones we've found. At the bottom of the page we've put an interactive Google map which shows just the stretch of road between Dana Point and Oxnard that is officially designated the Pacific Coast Highway.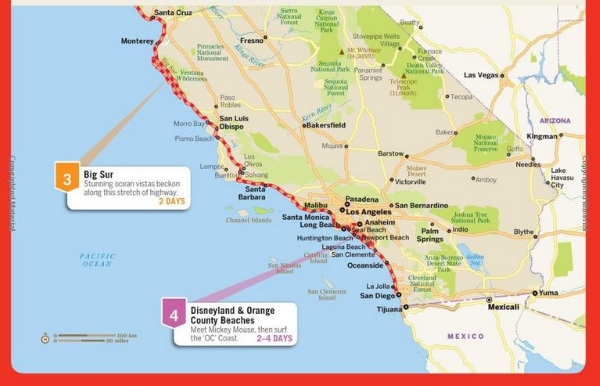 But we don't believe in re-inventing the wheel. There is already an excellent website which provides free downloadable maps of the Pacific Coast Highway section by section.

Click on the links below, to see some of the Pacific Coast Highway maps that are available. We've listed those for the California coast, the 'real' Pacific Coast Highway. If you want PCH maps of Oregon and Washington, go to the Mile by Mile website and you'll find them. We don't want to list them all again here, when we didn't do them in the first place. So take a look at these:
Free Downloadable Road Maps of the
California Pacific Coast Highway
From Dana Point to Oxnard
From Oxnard to San Luis Obispo
From San Luis Obispo to Monterey
From Monterey to San Francisco
From San Francisco North to Legget
---
Here's a map showing the route of the official Pacific Coast Highway, between Dana Point and Oxnard. You can click on the link below the map to open it in a separate window, where you can zoom in and examine the route in more detail. The only change we've made is that PCH stops in Oxnard, but we've extended it a short way to take you to where California State Route 1 joins US Route 101, and the two become one and the same route, carrying both numbers.
View Pacific Coast Highway: Dana Point to Oxnard in a larger map
---
---
Feb 16, 17 12:23 PM

If you're visiting Seattle on your PCH trip here's 10 Restaurants You Can't Miss in Seattle Right Now

Feb 03, 17 06:56 PM

Pacific Coast Highway Travel reviews five Astoria hotels in the budget, moderate and expensive categories and all taken from their guide to PCH accommodation.

Jan 28, 17 12:54 PM

If you like Mark Knopfler (as we do) and you like the Pacific Coast Highway, you'll enjoy this official video about the making of the Shangri-La album.