The Wineries and Vineyards
of the Pacific Coast Highway
The wineries and vineyards along or near to the Pacific Coast Highway produce some of the best wine in the world. The French wine world has known how good California wines are ever since a blind tasting in Paris in 1976. The new world wines of California were judged – even by French judges – to be superior to the old world wines of France.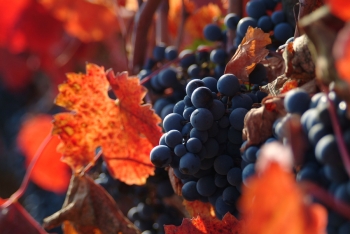 Lovers of Pacific west coast wines have always known that the vineyards of Oregon and Washington State can produce wines that in many cases are even better than their California counterparts. Oregon pinot noirs are among the best in the world, while Washington is second only to California in terms of US production and has been called the best place on earth to grow grapes.
No journey down the Pacific Coast Highway is complete, then, without calling in at a few of the wineries on the way. Check our page about Robert Mondavi for links to three of this great wine-maker's wineries, or read about Paso Robles Wine Tours or these Wine Tours in California Wine Country.
Not all the west coast vineyards are as far inland as Napa Valley (though it's well worth the detour!) Some of the ones in Sonoma are right by the sea (see photo above), the beautiful Paso Robles Wine Country is just inland from the Pacific Coast Highway, and there are many fine wineries around Santa Cruz, on the California coast too. The Carmel Valley inland from Carmel is another beautiful wine-growing region worth exploring.

In Washington there are wineries you can visit that are virtually in Seattle, as well as others along the Pacific Coast Highway as it goes around the Olympic Peninsula. Click to see our page on those bits of Washington Wine Country and on the Olympic Peninsula Wineries.

---
---
Oct 03, 18 12:36 PM

Located on a peninsula, Westport is a small fishing town in Washington State with the largest marina in the Pacific Northwest.

Sep 20, 18 11:20 AM

Little Sequim on the Olympic Peninsula in Washington is a delightful place to stop if driving the Pacific Coast Highway.

Sep 20, 18 06:58 AM

The places along the Pacific Coast Highway include big city vacation destinations like Seattle, San Francisco, Los Angeles & San Diego, and other attractions such as Santa Barbara and Monterey.