USA Guidebook
Discover USA from Lonely Planet
The Discover USA guidebook from Lonely Planet is a guide to the best of the United States, and that naturally includes the Pacific Coast Highway. In fact the Pacific Coast Highway is listed at the front of the guide as one of the USA's Top 25 Experiences, ranking alongside Yosemite, the Everglades, the Grand Canyon, Graceland, Miami, and New York City. We've no argument with that!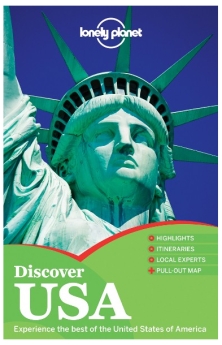 However, you can argue with any list and it seems odd to include both Disney World in Florida and Disneyland in California when you only have to choose 25 attractions from such a vast list of possibilities. Then again, had they chosen one and not the other, that would look odd too.

Top 25 Experiences
By and large this is a good list, including obvious attractions like Chicago, Memphis and Graceland, Nashville, Los Angeles, New Orleans, Boston, and Las Vegas. If you look at the map of the Top 25, though, you see that there are great stretches of the USA that seem to have nothing special about them at all. There's not a single attraction in the middle of the country, between Santa Fe and Memphis, and nor is there anything in the northern half of the country, from Chicago to Seattle, except for Mt Rainier National Park – no Rocky Mountains, no Yellowstone.
This is reflected in the restriction this format places on one of the itineraries – suggesting a drive from Chicago to Los Angeles in three weeks. Because the drive has to link places that are included in the book, your first stop out of Chicago is Santa Fe – over 1300 miles away! It's hardly the thing to describe this as The Great American Road Trip – and then suggest you fly the first leg, which is half the journey!
Nine of the attractions are down the east coast, and five on the west coast, which doesn't leave many for the rest of the country. Still, you can argue about lists like this till the cows come home. What of the book itself?
Pacific Coast Highway
Let's take a look at the Pacific Coast Highway, to see what kind of a job the book does on one of its Top 25 Attractions. The PCH gets just over two pages, and almost all of this is devoted to Monterey and Big Sur. There are brief references to Santa Barbara, Santa Cruz, and Mendocino too. Obviously there are separate large sections on Los Angeles, San Francisco, San Diego, and Seattle, but otherwise the entire west coast is condensed into a few pages (the Oregon Coast gets half a page elsewhere.)

Who's the Book Aimed At?
The book obviously isn't aimed at anyone driving the Pacific Coast Highway, and even San Francisco only gets about ten pages, plus a two-page map, with the Golden Gate Bridge condensed into a few lines. So who will want to buy this book? After all, publishers don't put books out on a whim. They do careful research to make sure there's a market, and there obviously is a market for books that cover the whole USA. So who is it?
The overseas market must be limited, as the vast majority will surely be going to one or perhaps two cities, or touring in a particular region like New England or California, and for these a much more detailed guidebook or two will be needed. (There are also Florida, California, New York and other guides in this same series.) However, anyone in the planning stages of a trip, perhaps wanting to visit the USA but not knowing where to start, could find this very useful for getting a general idea of the country's highlights (or the highlights of the highlights, as the USA has so many).
American readers might find Discover USA more useful, if they do a lot of traveling in their own country and only need an overview of a city, with a street plan – and these are probably the best sections of the book.
This USA Guidebook on Arizona
Naturally, living in Arizona, the section on our own state was of great interest. The book is arranged geographically, so there are chapters on, for example, Boston and New England, the Pacific Northwest, and New Orleans and the South. Arizona falls into the chapter on The Grand Canyon and the Southwest – what little mention it gets. The Grand Canyon takes up most of the Arizona space, with seven pages and a map. Flagstaff gets half a page, Phoenix just over a page – and that's it. Leaving out Tucson is a great omission, with its wonderful Arizona-Sonora Desert Museum and Old Tucson Studios. There are no entries for Sedona or Tombstone, two of the State's huge attractions, so if you're planning to visit Arizona you will definitely need another guidebook.

USA Guidebook: The Verdict
We've reviewed another title in this series, Discover Great Britain, on another website. That was a better book, as it's easier to condense a smaller country like Britain into 400+ pages than to try to get the entire USA into 500. But if you're thinking you might visit several US cities over the next year or two, or you want some inspiration and suggested itineraries for your first visit to the United States, the book would be an OK investment – provided you pay a discounted price like on Amazon, as the full cover price is on the high side for what you get.

Buying this USA Guidebook
Discover USA from Lonely Planet is available on both Amazon USA and Amazon UK. 

| | |
| --- | --- |
| USA Paperback | UK Paperback |
---
---
Oct 03, 18 12:36 PM

Located on a peninsula, Westport is a small fishing town in Washington State with the largest marina in the Pacific Northwest.

Sep 20, 18 11:20 AM

Little Sequim on the Olympic Peninsula in Washington is a delightful place to stop if driving the Pacific Coast Highway.

Sep 20, 18 06:58 AM

The places along the Pacific Coast Highway include big city vacation destinations like Seattle, San Francisco, Los Angeles & San Diego, and other attractions such as Santa Barbara and Monterey.