Top Ten Movie Star Homes 2014
Press Release Issued May 29, 2015
Hollywood, California
Each year Starline Tours, the number one celebrity tour company in the world, polls passengers on what's hot and what's not in their quest for catching a glimpse of a celebrity at their Los Angeles estate. Last year Ellen DeGeneres stole the show and Michael Jackson's rental home popped back on to the list, having been off limits for tours for a year. This year, there are few surprises, possibly due to a relatively sane year for Hollywood celebrities with no spotlight divorces, no new teen idols, no wild combo couples, and a red carpet of nice, well mannered, gracious stars without wardrobe malfunctions. Still, the appeal to get up close and personal with fan favorites remains the number one activity in Hollywood with the original Movie Stars' Homes Tour.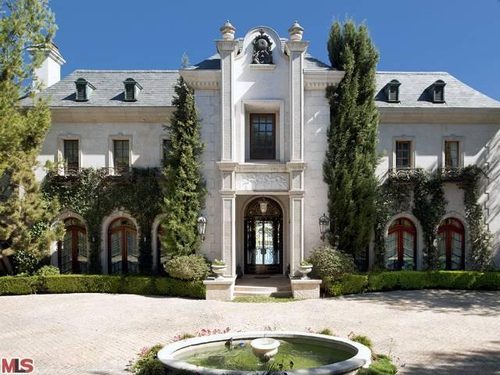 The Rental Home Where Michael Jackson Died

Michael Jackson
The over-the-top Holmby Hills mansion Michael Jackson was renting when he died took the No. 1 spot again, (after a few years off the top spot) showing his continuing worldwide appeal – as evidenced by his matching No. 1 position in the 2014 list of "Top Earning Dead Celebrities", with $140 million earnings from his estate in 2014 (Source: Forbes). 
Katy Perry, with her broad family appeal, returns again this year at No. 2. The Playboy Mansion, which took a couple of years off (tours are rerouted when access is denied) moved back to No. 3, making this perhaps the male-testosterone version of the "Magic Kingdom". Some celebrities seem to manage to stay relevant even after they are long gone – as evidenced by the incredible staying power of Elvis Presley and Lucille Ball at Nos. 7 and 8 respectively. The new kid on the block this year was Justin Bieber. His continued kid-like antics kept him and his rental home in the spotlight at No. 9 (much to the chagrin of his neighbors).
On the downside, Simon Cowell continues to lose heat (he was No. 2 just two years earlier) as his media presence continues to wane. Ellen DeGeneres slipped 5 places this year. Has the queen of daytime talk-shows lost some of her luster? Likely great news for Tom Cruise is that his home is slipping of the list, now at spot 10. His low key social life coupled with his manic movie making has kept him out of the country and off of Twitter feeds.
Cher's Malibu Movie Star Compound
Movie Star Homes in Malibu
Cher's spectacular ridge-top compound retained the No. 1 spot on the Malibu Stars Home list. The singer and actress has held that honor since the list and the Malibu tour began 2010, likely because of her annual final tours. The pending home sale to Jay-Z and Beyoncé fell through, fueling the rumor of their breakup. Matthew Perry, Leonardo DiCaprio and Adam Sandler solidified their long-term placement on this list by taking the next three spots respectively. Who got knocked off the list is sometimes more telling than who is on it – and this year stars such as Jennifer Aniston, Miley Cyrus, Will Smith and Eva Longoria all fell off the list – which would be no surprise to any celebrity gossip columnists, and proves that these Top 10 lists really do a good job in measuring the "heat index" of celebrities.

2014 Top Ten Most Requested Homes
on Starline's Movie Stars' Homes Tour
 Michael Jackson
 Katy Perry
 Playboy Mansion
 Bruno Mars
 Simon Cowell
 Ellen DeGeneres
 Elvis Presley
 Lucille Ball
 Justin Bieber
Tom Cruise
2014 Top Ten Most Requested Homes
on Starline's Malibu Movie Stars' Homes Tour
Cher



Matthew Perry
Leonardo DiCaprio
Adam Sandler
John Cusack
Courteney Cox
Ryan O'Neal
Candy Spelling
Ozzy and Sharon Osbourne
Sting
Booking Tickets for the
Movie Stars' Home Tours

The Movies Stars' Home Tour is the longest operating tour in Hollywood, covering numerous famous estates, buts adds rising popular stars to keep the experience up-to-the-moment and fresh. The original Movie Stars' Homes Tour and Malibu Movie Stars' Homes Tour operate daily in open-top vans equipped with personal headsets to enjoy the guide's narration without disturbing the peace and tranquility of the exclusive neighborhoods. 
The 2-hour Original Movie Stars' Homes Tour is priced at $47 for adults and $37 for children, ages 3 to 11 and includes a complimentary ticket to Madame Tussauds (a $27 value) when purchased in advance online, or enjoy a $5 savings, at www.starlinetours.com. 
Tickets are also available at Starline Tours' box office in the forecourt of TCL Chinese Theatre on Hollywood Boulevard and the Starline Santa Monica Terminal in downtown Santa Monica. The Malibu Movie Stars' Homes Tour is $44 for adults and $34 for children (the $5 online purchase savings also applies) and is also available at the Starline Tours office on Santa Monica Pier.
---
---
Oct 03, 18 12:36 PM

Located on a peninsula, Westport is a small fishing town in Washington State with the largest marina in the Pacific Northwest.

Sep 20, 18 11:20 AM

Little Sequim on the Olympic Peninsula in Washington is a delightful place to stop if driving the Pacific Coast Highway.

Sep 20, 18 06:58 AM

The places along the Pacific Coast Highway include big city vacation destinations like Seattle, San Francisco, Los Angeles & San Diego, and other attractions such as Santa Barbara and Monterey.