San Diego Restaurants Zagat Guide
We make no secret of the fact that we like Zagat Guides, and here's the Zagat Guide to San Diego Restaurants, originally published November 2007 (with a newer edition now available, see the links below). We like the books because they're written by real regular diners, not just one or two food critics. In this case some 2,453 frequent diners-out give their views on 472 eateries in San Diego County and a further 460 in Orange County and Palm Springs. And they're all crammed into 200 pages that will slip easily into pocket, glove compartment or handbag.

Don't expect cheap food in San Diego. That's the first thing the editors warn you. The southern Californian city has had an influx of celebrity chefs that are helping transform it into one of the world's best dining cities. The average price of a San Diego meal is now $35.78, according to Zagat, which is more than you'd pay in Los Angeles or Chicago, and higher than the national average of $33.41.
The Zagat Guide grades its choices into several different categories, including the most important: Top Food Ratings. Then you can find their recommendations listed by Cuisine, from American (New) and American (Trad.) through to Steakhouses and Thai. After that comes a breakdown by Special Feature, such as Business Dining, Dining Alone, Singles Scene, Quiet Conversation or Winning Wine Lists. Finally the top dining places are listed according to 17 locations, including Del Mar, Downtown, the Gaslamp Quarter, La Jolla, Little Italy, Ocean Beach, Old Town and Pacific Beach.
There are about five restaurants packed onto every page, which doesn't leave much room for long, glowing descriptions of individual dishes. In some ways we miss these, as they leave you salivating, and ringing to book a table, but then again you won't have the disappointment of turning up and finding it no longer on the menu. Zagat restaurant write-ups are brief and to the point, and give you more of an idea of the feel of a place. They also have several different opinions in every review, and pull no punches if the service is occasionally lacking or the prices a little too high.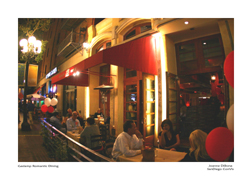 San Diego dining in the Gaslight Quarter
Photo by Joanne DiBona, courtesy San Diego CVB

So what are some of the highlights according to Zagat's 2,453 San Diego diners? The Top Food Rating in San Diego County is shared between Sushi Ota in Pacific Beach (no website, 4529 Mission Bay Dr, tel: 858-270-5670) and the Wine Sellar and Brasserie in the Golden Triangle.
Top Food in Orange County? Head for Basilic in Newport Beach or the Stonehill Tavern in the St Regis Resort out at Dana Point. The latter, they say, provides a phenomenal take on New American dishes under star chef Michael Mina, while the contrasting 24-seater Basilic bistro is somewhere so good that people don't want to share the secret – but thankfully they did.
The Best Palm Beach Restaurant?
No question. It's Le Vallauris which not only gets top marks for food but also for décor and service. Words like 'beautiful', 'romantic', 'superb' and 'classic' litter this review of what one reviewer calls the 'best restaurant in the Coachella Valley.'

Buying the Book
If you like your food and you're visiting Palm Springs, Orange County or San Diego, then the Zagat San Diego Restaurants Guide is a cheap investment. See the links below for a more recent edition.

| | |
| --- | --- |
| US Paperback | UK Paperback |
---
---
Oct 03, 18 12:36 PM

Located on a peninsula, Westport is a small fishing town in Washington State with the largest marina in the Pacific Northwest.

Sep 20, 18 11:20 AM

Little Sequim on the Olympic Peninsula in Washington is a delightful place to stop if driving the Pacific Coast Highway.

Sep 20, 18 06:58 AM

The places along the Pacific Coast Highway include big city vacation destinations like Seattle, San Francisco, Los Angeles & San Diego, and other attractions such as Santa Barbara and Monterey.