New Travel Sharing App
Pearlshare is a new travel sharing app that Pacific Coast Highway Travel was delighted to be invited to get involved with. Pearlshare enables you to get tips and advice on where to stay, where to eat, what to do and see on your travels from both travel experts and locals alike.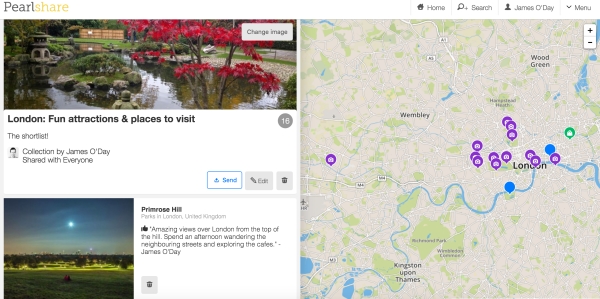 A Pearlshare Guide to London Attractions
When we first tried Pearlshare we were pleased to see how easy and intuitive it is to use. As websites like Twitter and Uber have shown, a simple idea is often the key to success. The world is knee-deep in travel apps, but Pearlshare stands out in many ways.

Pearls and Guides
In Pearlshare there are just two things: Pearls and Guides. A Pearl is an individual recommendation - that great café only locals know about, a top restaurant, a small museum or a budget hotel that's really good. Descriptions are kept brief, and in that respect Pearlshare is more Twitter than TripAdvisor. Once you've signed up for Pearlshare (which is free) then you can join in and recommend your own favourite places, and see other people's recommendations.
Put a few Pearls together and you create a Guide. We did one for the Best Things to Do in Monterey, though we've done several more based on other places our travels have taken us and where there are museums, bars, restaurants and so on that we think deserve a shout-out.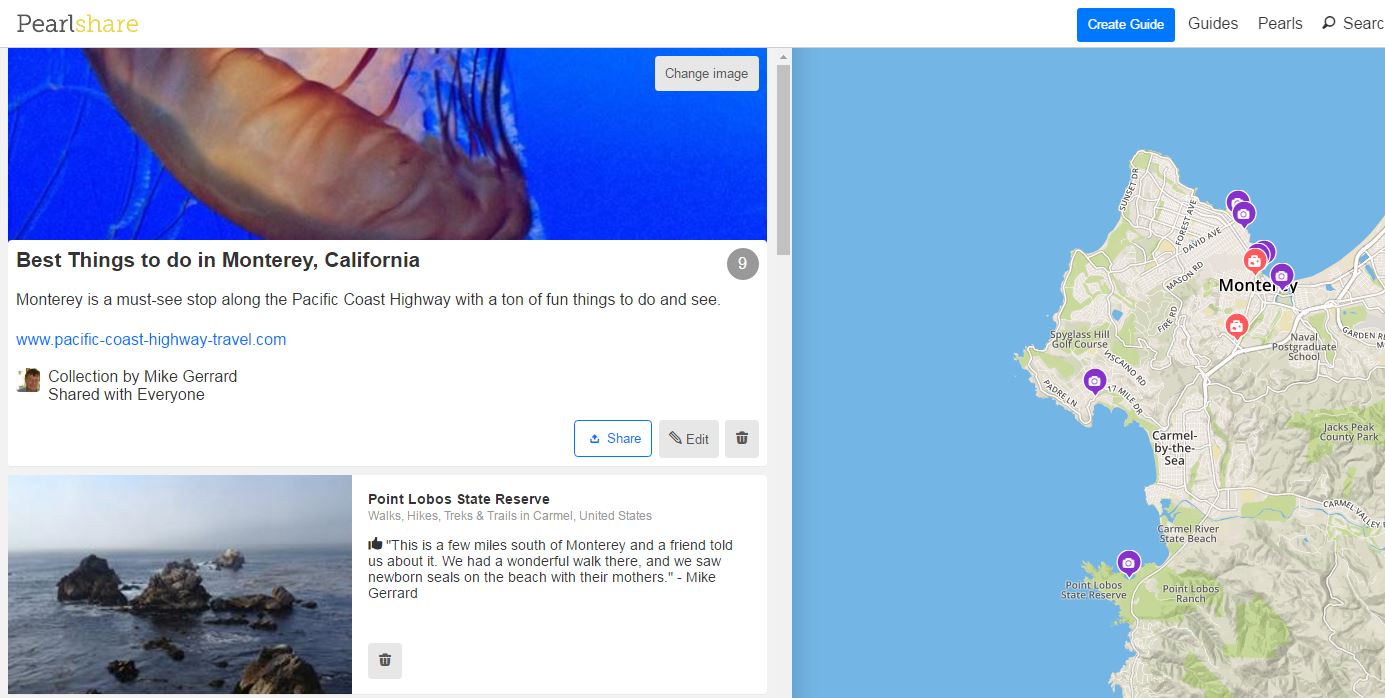 Our Monterey Guide on Pearlshare
Pacific Coast Highway Pearls
So if you're planning a trip down the Pacific Coast Highway you can take a look at our Monterey suggestions and find where they are by zooming in on the map. But here's the neat thing. Our Monterey list is available to everyone, so you can copy it to your own list and put together your selection of Pearls and Guides for your PCH road trip.
As well as Monterey, what else can we find along the Pacific coast? There's a very good Guide to Western Sonoma (the Sonoma Coast) with 24 Pearls of the author's favorite wineries and eating places, the ones she takes her friends to when they visit. That's the perfect example of how to use Pearlshare.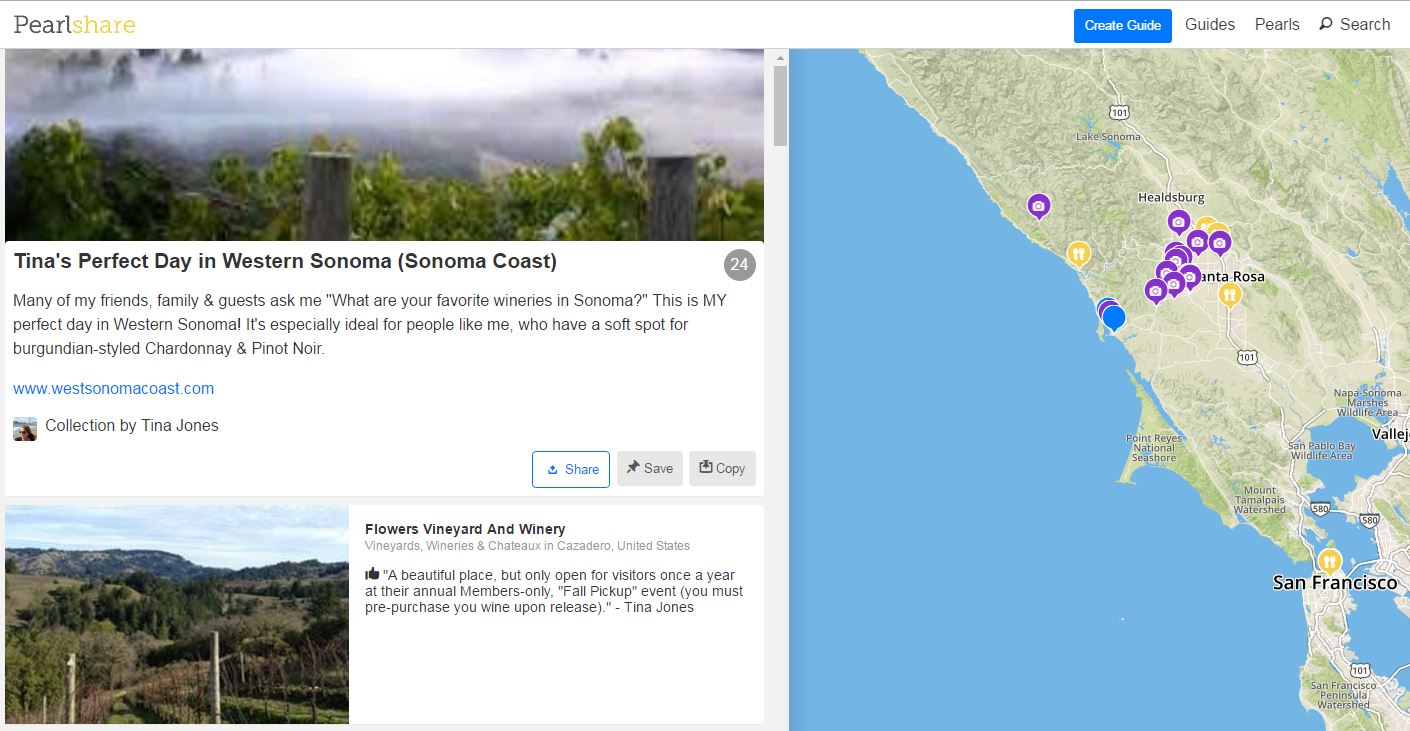 A Pearlshare Guide to Western Sonoma and the Coast
Searching this Travel Sharing App
You can search both Pearls and Guides, using the different categories that Pearlshare covers: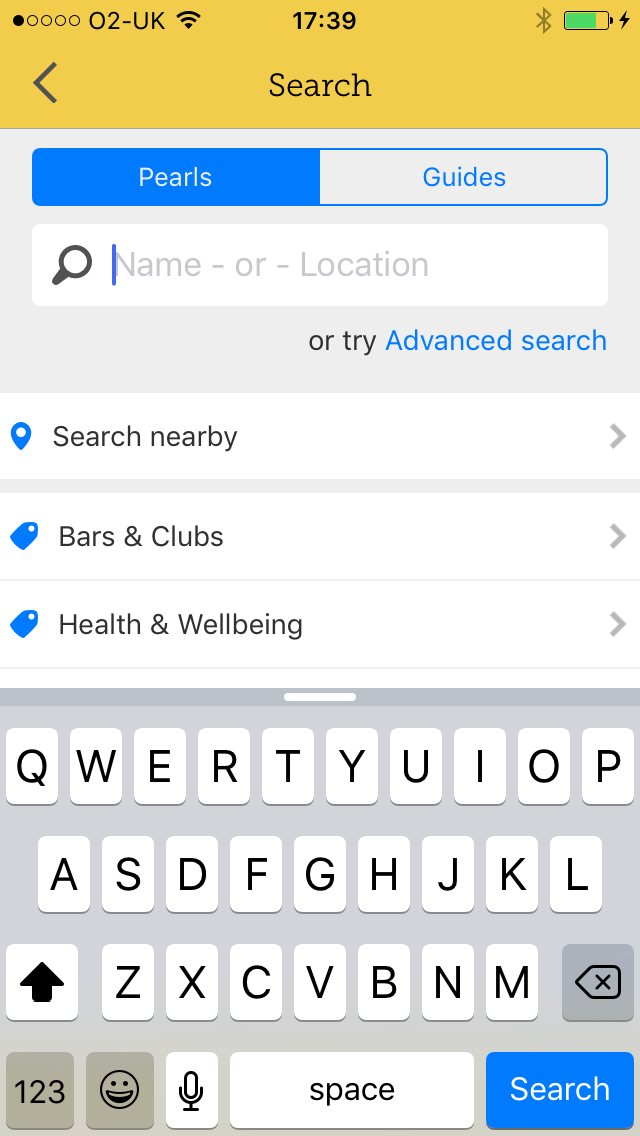 Searching Pearlshare
Accommodation

Bars and Clubs
Coffee and Tea
Health and Wellbeing
Restaurants and Cafés
Shopping
Sights

Transport
You can search by location and you can search by name too. So if a place has been recommended to you, in a guidebook say, you can search Pearlshare for the name and find out what other people say about it. If you want suggestions for restaurants in San Francisco, say, then you can limit your search to that, and a whole host of places come up in both list and map view. Zoom in on the map and you can see what's nearby. Tap on the icon for the place and the comments, photos, a Google map and contact details all come up. 
We searched for Carmel and a Guide came up, which included our own fave eating place, Dametra's. Smaller places aren't yet well represented, but then this travel sharing app is only a few months old. But search the bigger places and there are plenty of recommendations - like San Diego's best taco joints or a comprehensive city guide to Los Angeles.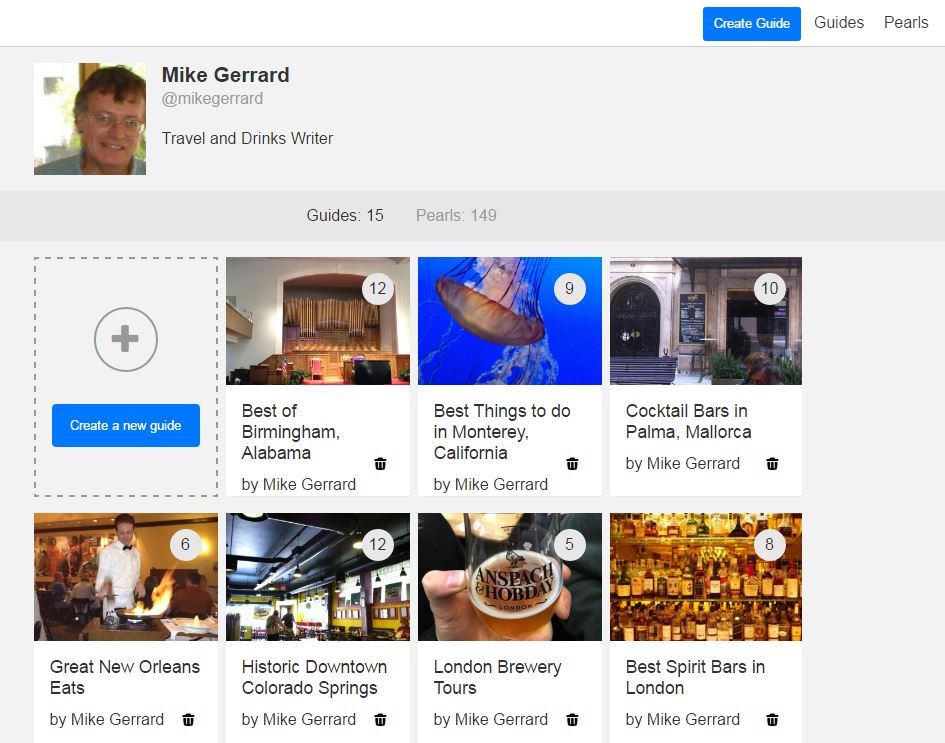 Some Guides by PCH Travel's Publisher Mike Gerrard
---
---
May 21, 19 02:22 AM

Check out the new live Jelly Cam at the Monterey Bay Aquarium! Note that it only operates 7am-7pm Pacific Time, otherwise you get a pre-recorded YouTube video... which is still cool to see.

May 20, 19 03:36 AM

Stunning hotels that'll ensure you get the very best from one of the world's finest road trips.

May 16, 19 07:31 AM

Where to find the best hamburgers along the California coastline!