Michelin Green Guide California
Michelin Green Guide:
California
This Michelin Green Guide California didn't get off to the best of starts for me. Naturally the first thing I did was look in the index for 'Pacific Coast Highway'. It doesn't appear. Can you possibly write a guide to California without at least one mention of the PCH? Even casting our bias aside – I don't think so.

Pismo Beach
Next I looked up a place we've been to recently: Cambria. Now Cambria's a small place, so it doesn't surprise me that it only warrants one sentence. But that sentence describes Cambria as a 'languid beach town'. To call Cambria a beach town is misleading. The main part of town is inland, and while it does have some beaches, like at Moonstone Beach Drive, Cambria is not a beach town. Pismo Beach is a beach town.

Looking at somewhere else we've been to recently, I turned to the section on La Jolla. 'La Jolla,' the guide says, 'is famed for its boutiques, museums…' Boutiques, yes, but it only has one museum: the Museum of Contemporary Art. The write-up for the museum says that it puts on temporary exhibitions drawn from its own collection. This is inaccurate too. They draw on more than just their own collection to produce their exhibitions.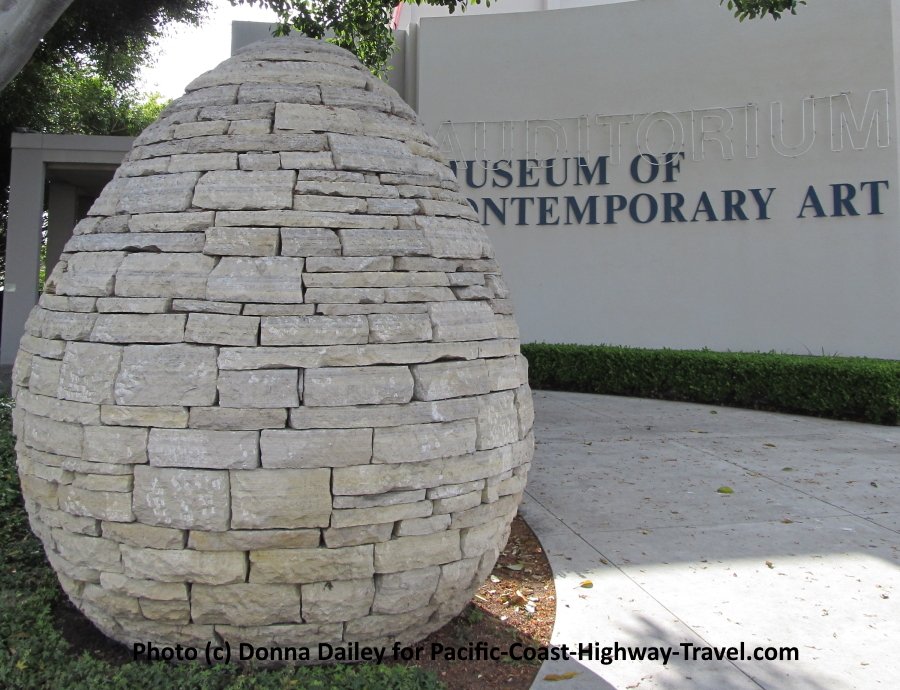 Museum of Contemporary Art, La Jolla
Photo (c) Donna Dailey
Michelin Green Guide California: Maps
What should be made clear is that the Green in the title merely refers to the color and series of the guide, not to it having any green or eco agenda to it. Having got the nit-picking out of the way, what's to like? Well, it does have lots of good, clear maps.
Michelin has a wealth of experience in map-making, squeezing and cross-referencing lots of hotels and restaurants onto city maps for their infamous Red Guides. In the Green Guides they work just as well, and if you're planning on driving the Pacific Coast Highway you'll find maps to places and areas like Downtown Santa Barbara, the Spanish Missions of California, Historic Monterey, the Monterey Peninsula (including the 17-Mile Drive), and several maps for each of the major cities of San Diego, San Francisco, and Los Angeles.

Hotels and Restaurants
Given how good the Michelin Red Guides are for hotels and restaurants, this Green Guide is surprisingly poor. In the Central Coast area, for example, there's only one hotel recommendation for Monterey, and two for Santa Barbara.
Restaurants? One in Monterey, one in Santa Barbara, two in Carmel, one in Pacific Grove, and the inevitable Nepenthe for Big Sur. And that's it – six restaurants listed for almost 250 miles of coast.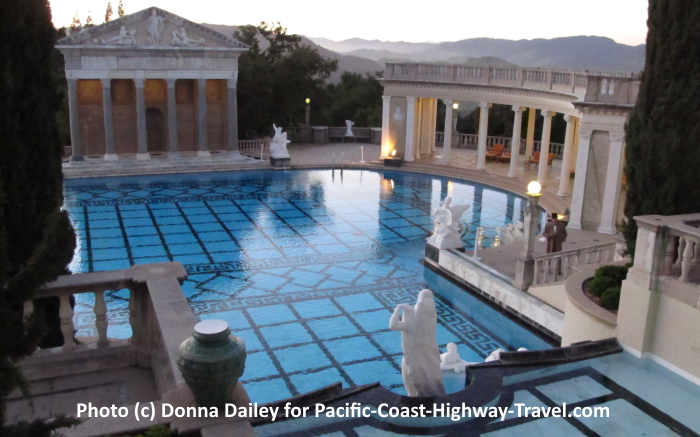 Hearst Castle, photo (c) Donna Dailey
Cities, Towns, Sights
The book does do a good job of covering the major cities, towns, and the sights of California, from Disneyland to Hearst Castle, from the National Parks to the State Parks and State Beaches.
With these the guide seems to give a pretty comprehensive coverage. Hearst Castle gets two pages – just don't expect any suggestions as to where you might stay when you visit. Disneyland gets seven pages and a good two-page color map. Death Valley National Park has about four pages and a map.

Is the Book Worth Buying?
If you're planning on driving the Pacific Coast Highway and only stopping at major places like Santa Barbara, Monterey, Carmel, or Big Sur, alongside the main cities, then the book will be a useful companion. If you want to visit smaller places such as Cambria, Half Moon Bay, or Dana Point, then it won't – they're hardly mentioned, if mentioned at all.
The guidebook will also be worth considering if you're also going exploring inland, maybe to wine country, Palm Springs, Yosemite, Joshua Tree, or Death Valley. It's good on sights and maps, less good on hotels, restaurants, and smaller towns and villages.
---
---
Oct 06, 21 03:29 AM

The Pacific Coast Highway is California's longest state route at 656 miles (1,055 kilometres) and runs along the Pacific Ocean, making it arguably one of the prettiest drives in the United States. Fou…

Oct 06, 21 03:29 AM

United Airlines just made a lot of friends among cycling enthusiasts. The Chicago-based carrier has eliminated its fees for passengers traveling with their bicycles, joining fellow airlines American a…

Sep 30, 21 03:15 AM

Best Tours & Travel's recent reopening saw sellout tours and a continuing recovery in its private charter operations, thanks to nonstop outreach throughout 2020's shutdown months that continues today.