Best San Francisco Hotel Restaurants
Zagat Guide to San Francisco Bay
Whether you're looking for the best San Francisco hotel restaurants, the top romantic restaurants in the Bay Area, or the eating places with the best views, they're all rated here in this Zagat Guide to San Francisco Bay Area Restaurants. The 350-page edition of the guide also includes Zagat's recommendations on where to eat in Wine Country, Silicon Valley, and the Monterey Peninsula.

Update
This review is of an older edition of the guide. More recent editions are now available: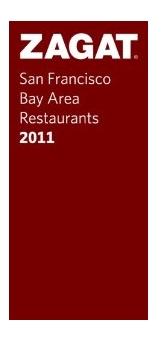 There are 1,373 of the best eating places reviewed in the book, rated by 10,118 reviewers. This is why we like Zagat guides. They're written by regular diners alongside professional restaurant reviewers, and each place will have been visited by several different people at different times. The editor then compiles a 'review of reviews', with highlights from individual reviews cleverly stitched together into a flowing whole. This results in a consensus view that readers ought to be able to trust.
Zagat then rates each restaurant in four categories: Food, Décor, Service, and Cost. The top mark for Food is 30 points, and only two out of the 1,373 restaurants covered merit a mark of 29/30 - Gary Danko at Fisherman's Wharf and the French Laundry in Yountville in Napa Valley. This shows you that Zagat's standards are high. The best places are also ranked according to Cuisine, from American to Vietnamese, and by various other categories such as best bargains, winning wine lists, best for brunch or breakfast, most child-friendly eating, romantic spots, best views, and the best San Francisco hotel restaurants.
Best San Francisco Hotel Restaurants
For many travelers, business travelers in particular, it's important to book a hotel with a good restaurant. Sometimes time is tight, and you prefer to dine where you're staying. Most of the best San Francisco hotel restaurants are not in the city, but in the larger Bay Area covered by Zagat. The best in the city itself is Masa's, the restaurant at the Hotel Vintage Court on Nob Hill. It gets an impressive 27/30 for its new French cuisine and the review is sprinkled with words like 'sublime', top-notch', marvelous', and 'superior'.
At the back of the Zagat guide (and Zagat guides are thoroughly well-indexed and cross-referenced) is a long listing of the other top hotel restaurants in the book. There are too many to list them all here but among those at the better-known hotels are:
California at the Hotel Millennium

Tonga at the Fairmont in Nob Hill

Seasons at the Four Seasons Downtown

Midi at the Galleria Park Hotel

The Hilton's Urban Tavern

Big 4 at the Huntington Hotel in Nob Hill

Luce at the InterContinental

Silks at the Mandarin Oriental

The Grand Café at the Hotel Monaco

Garden Court and Kyo-Ya at the Palace Hotel

The Ritz-Carlton Restaurant in Nob Hill

Ame and Vitrine at the St Regis

Campton Place at the Taj Campton Place Hotel

La Scene at the Warwick Regis
Zagat's Top Romantic Spots
San Francisco is a popular honeymoon destination, and there are plenty of romantic restaurants to choose from. Whether it's a honeymoon or a special occasion, or you're just feeling romantic, Zagat recommends:
Acquerello, 1722 Sacramento St, Pork Gulch

Fleur de Lys, 777 Sutter St, Downtown

Aziza, 5800 Geary Blvd, Outer Richmond

Café Jacqueline, 1454 Grant Ave, North Beach

Gitane, 6 Claude Ln, Downtown
Zagat Guide to San Francisco Bay Restaurants
So much goes into these slim, pocket-sized Zagat guides that it's not hard to see why they're among our favorite restaurant guides. You may not get long and glowing descriptions of individual dishes, but you definitely get a feel for what a place is like. They're also great at helping you find just what it is you're looking for - cheap Chinese, good prime rib, best views, best noodle shops, and top taquerias. If you're spending any time at all in and around San Francisco, and you like your food, it's a must-buy book.

CityPASS San Francisco
If you're going to be spending any time in San Francisco then we really recommend doing what we did, and getting a San Francisco CityPASS. Not only does it get you into some of the top attractions like the California Academy of Sciences and the Aquarium of the Bay, it also includes a 7-day Cable Car and Muni Bus Passport and a free cruise in San Francisco Bay. We definitely got full use of ours! 
---
---
Oct 03, 18 12:36 PM

Located on a peninsula, Westport is a small fishing town in Washington State with the largest marina in the Pacific Northwest.

Sep 20, 18 11:20 AM

Little Sequim on the Olympic Peninsula in Washington is a delightful place to stop if driving the Pacific Coast Highway.

Sep 20, 18 06:58 AM

The places along the Pacific Coast Highway include big city vacation destinations like Seattle, San Francisco, Los Angeles & San Diego, and other attractions such as Santa Barbara and Monterey.