Penguin Webcam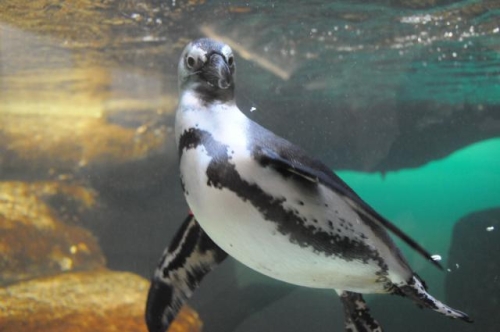 The penguin webcam at the California Academy of Sciences in San Francisco has proved a big hit, and there are now three separate webcams to enable you to watch the antics of the penguins as they swim, nest and flirt in their Academy home. People are watching the webcams from all over the world, enjoying the fun of seeing these endangered African penguins enjoying life to the full in San Francisco.
African Penguins
These flightless African penguins are native to the coasts of South Africa and Namibia. In the wild they have been on the endangered list since 2010, and they are considered to be at serious risk of extinction in the wild. That's one reason the penguins at the California Academy of Sciences are so important.
These African penguins are part of the Association of Zoos and Aquariums' Species Survival Plan (known as SSP), which is aimed at maintaining genetic diversity of captive populations through controlled breeding and collaborative exchange of offspring among partner zoos and aquariums. The California Academy of Sciences has a long and successful history of breeding African penguins as part of the SSP for this species. 
In 2008 the penguins moved into a new building and in January 2013 celebrated the hatching of their first chick. The chick was called Linus, after Carolus Linnaeus, the taxonomist who originally described the African penguin species in 1758. 
---
Find out more about the African penguin.
---
And that's enough information. Here is one of the live penguin webcams (with apologies for the ads, which are nothing to do with us):
Live video by Ustream
Other Penguin Webcam Links
You can also watch the penguins here on the Academy's own website: http://www.calacademy.org/webcams/penguins/
Or you can watch the African penguins on your smart phone here: http://www.calacademy.org/apps/penguins/
---
---
Jun 14, 17 07:30 PM

Pacific Coast Highway Travel's California Camping book review rates the 20th anniversary edition of Moon's complete guide to over 1400 tent and RV campgrounds.

Jun 13, 17 06:09 PM

Olympic Peninsula wineries are not in the heart of Washington wine country but they produce fine wine and the vineyards near the Pacific Coast Highway and the Olympic National Park are worth a visit.

Jun 13, 17 05:58 PM

Olympic National Park accommodation consists of campgrounds and trailer parks, and most visitors to the park stay in nearby lodges and resorts, or in the towns of Port Angeles and Forks.