Seattle Restaurants Zagat Guide
'America's best dining guide' is how Reader's Digest described Zagat, and the new edition of the Zagat Guide to Seattle Restaurants reviews 759 of the best restaurants in Seattle. No fewer than 3,165 of the city's frequent diners contribute reviews and rate the top eating places across various categories, including Top Food, Single Scenes, Raw Bars, Hotel Dining, Best for Brunch, Late Dining and Winning Wine Lists.

The Zagat Seattle Restaurants Guide is a slim volume at only 174 pages, with an average of 5-6 reviews packed on a page. If you're not familiar with the Zagat style, then there are no long and loving descriptions of signature dishes. Instead each review is built up using extracts from several diners' comments. It's as if half a dozen friends all told you what they liked most abut each place, all talking at the same time.
The reviews are honest, though, and because they come from different people visiting on different occasions, you feel they're more accurate than one or two visits from a restaurant critic who's usually a face about town. 'Not the great destination it used to be' is one verdict on the Bush Garden in the International District, while the Maple Leaf Grill in Maple Leaf is criticized for slow service. Over-priced menus are also pointed out.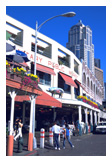 Pike Place Market, Seattle Photo: Tim Thompson,
Courtesy of Seattle CVB
Not that Seattle restaurants are too expensive, the average price of a meal here being $27.68, very reasonable for a city compared to the national average of $33.15.
You won't pay $27.68 at Seattle's Top Food choice, which is The Herbfarm in Woodinville, where the average cost of a meal according to Zagat is $163. But it's a 'once-in-a-lifetime dining experience,' they say, which is 'sublime' and 'exquisite'. The Herbfarm also scores top marks for Service, and the sound of its fixed-price 9-course Pacific NW menu with paired wines (check their website) which changes every night means the Herbfarm goes right to the top of our got-to-try-it restaurant list next time we're in Seattle.
The Herbfarm also scores number one in the Winning Wine Lists category, and in the Pacific Northwest regional cuisine list too. Some of the other top choices this year include:
Raw Bars: Seastar in Bellevue
Singles Scene: Restaurant Zoë in Belltown
Best Brunch: Sitka and Spruce in Eastlake
Best Hotel Dining: The Inn at Langley
Best Newcomer: Bakery Nouveau in West Seattle
Buying the Book
If you like your food and you're visiting or live in Seattle then the Zagat Seattle Restaurants Guide is a must. 

| | |
| --- | --- |
| USA Paperback | UK Paperback |
---
---
Jan 13, 17 09:23 AM

Find out all the groovy things that are happening in San Francisco in 2017 to celebrate the 50th anniversary of the Summer of Love!

Jan 09, 17 09:23 AM

How we built a travel website from nothing, using Site Build It to take care of the things we didn't know,and didn't want to know, leaving us free to write the content and do the traveling!

Jan 09, 17 07:14 AM

Monterey wine country in California has been voted one of the world's best wine travel destinations by Wine Enthusiast magazine, the only California wine region to be included on the list.