SeaWorld San Diego
SeaWorld San Diego in California is the original SeaWorld, though there are now others in Orlando in Florida and in San Antonio in Texas. SeaWorld's star attractions include whales, dolphins, shark encounters, manatee rescue, and the fun ride:
Journey to Atlantis.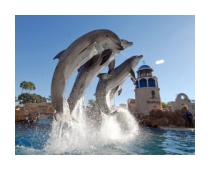 How Long to Spend at SeaWorld San Diego?
Plan to spend one full day, at least, if you want to see everything SeaWorld has to offer. Two days is even better, but you can squeeze the highlights into one day if you plan carefully. As soon as you arrive, make sure you get not just a map of the park but also a timetable of show times. 

SeaWorld Shows
You must definitely see the Dolphin Discovery show, and we laughed right through Clyde and Seamore's Risky Rescue. Personally we could have skipped Pets Rule! but lots of people loved it. Our advice: on no account miss the Dolphin Discovery, then fit in as many of the other shows as you can manage. We even went back to watch some of them a second time!

Show and Tell
We'll tell you what we discovered about the shows – get there early and don't sit near the front. Of course some folks love getting soaking wet, but if that's not your thing or you've got cameras, sit well back.
Out of season there's usually room for everyone in the large show theaters, so it's less of a problem, but when it's busy the late-comers might not get a seat. If you're not sure then ask someone – but do not miss the big shows.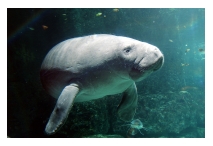 Manatee Rescue
We love manatees, so for us this is a must-see. We watched manatees in the wild in Florida, so to see these magnificent creatures up close was amazing. The manatees at SeaWorld San Diego are Florida manatees that have been rescued after injury or which aren't ready to be back in the wild, so they're well looked-after with a huge, natural environment to swim around in.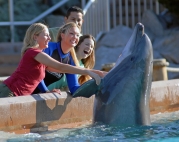 SeaWorld Rides
We had a full day at SeaWorld and didn't even do any of the rides. We preferred to spend time with the shows and the up-close encounters, watching the dolphins and sea otters at the Rocky Point Preserve. But if you like adventure rides then Journey to Atlantis has been the most popular attraction ever, since SeaWorld first opened its gates in 1964. Shipwreck Rapids isn't far behind, and there were lots of laughing faces coming out of both those rides when we walked past.

Location
You'll find SeaWorld San Diego about 5 miles northwest of downtown, and just a 15-minute drive from either San Diego International Airport or San Diego Zoo. To get to SeaWorld head west on I-8 till you get to the end – just stop before you hit the Pacific Ocean. 

Further Information
For full information on what there is to do at SeaWorld San Diego, and to find out about current opening hours and ticket prices, visit the SeaWorld San Diego website. Here you can not only buy tickets online but even plan your full San Diego vacation package.
---
---
Aug 17, 17 10:19 AM

Road maps of the Pacific Coast Highway or PCH are essential for anyone planning to drive the trip, and detailed routes are available for free download via these links to the Mile by Mile website.

Aug 16, 17 03:16 AM

Now You Can Cycle 'Big Sur Island' on a Car-Free Stretch of California's Pacific Coast Highway: Make the most of Big Sur's road closures with this once-in-a-lifetime opportunity

Aug 02, 17 02:47 AM

Pacific Coast Highway Travel recommends good cheap motels in San Diego including Super-8, Motel 6, Travelodge and Days Inn.