MacCallum House Inn,
Mendocino, California
The historic MacCallum House Inn and Restaurant comprises several properties around Mendocino Village, including the Mendocino Village Inn, a mansion which dates back to 1882. The main house also dates from 1882 and was built by a local doctor. It was then home to several more doctors, and the acclaimed local artist Emmy Lou Packard.

ACCOMMODATION
There's a variety of accommodation options at the Inn, spread over these various properties. The original 1882 mansion has just six unique rooms, decorated with antiques and some with ocean views. There are also seven cottages around the house, most with their own private decks. 
Then there's the original barn for the mansion, which has been restored and turned into six more rooms, all of them with ocean views.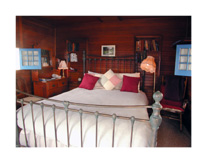 If you like, you can stay nearby in another 1882 mansion, the Mendocino Village Inn, which has eight individually decorated rooms over three storeys, five of them with their own private entrances. There are more rooms in the MacCallum Suites, a luxury house set on the highest hill in Mendocino and also offering prime ocean views. Finally there are some vacation rental homes, some with Pacific Ocean views and private hot tubs.

FACILITIES
Room rates include a gourmet breakfast, in-room spa and massage services, two dining credits per room towards the cost of your meal or drinks, high-speed internet (some have free wifi), cable TV and DVDs, bike rental, croquet, complimentary membership of the Redwood Health Club, and many more facilities.

In the main house there's the Grey Whale Bar and café, and the acclaimed MacCallum House Restaurant which, amongst other things, has won accolades from Wine Spectator magazine for its wine list, and whose chef focuses on local organic produce.
MENDO WINE TOURS
MacCallum House also operates Mendo Wine Tours, which has its own stretch limo and two Lincoln town cars to take guests on tours of the local boutique wineries.
---
---
Nov 10, 16 01:06 PM

Pacific Coast Highway travel offers advice on driving from LA to Hearst Castle, including distance, journey time, and route, whether taking the coastal route or driving the I-5 Interstate.

Nov 10, 16 12:58 PM

Here are the basic facts if you plan to drive the Pacific Coast Highway,including which direction,can you drive it in a rental car, how long will it take and when is the best time to go driving.

Nov 10, 16 12:52 PM

Drive times and distances on the Pacific Coast Highway or the quickest routes from Seattle to San Francisco to Los Angeles to San Diego, given in miles and the driving time it takes.