Bicycling the West Coast in 1909: Two Wheels North
If you think the prospect of cycling the Pacific Coast is daunting enough today, then think what it must have been like a hundred years ago? Two Wheels North: Bicycling the West Coast in 1909 by Evelyn McDaniel Gibb tells the story of two young men, just out of high school, who set off from Santa Rosa in California on second-hand bicycles and headed past Sonoma and Napa to Seattle, where they wanted to see the Alaska-Yukon-Pacific Exposition.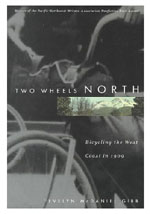 It's an ordinary and yet a heroic journey too, and beautifully told by the daughter of one of the men, Vic McDaniel, who made the trip with his friend, Ray Francisco. Little wonder that the book won the Pacific Northwest Writers Association Non-fiction Book Award. Evelyn Gibb has crafted the tale from her father's recollections, the postcards they sent home, and the accounts of the trip that the boys managed to send back to their hometown newspaper, the Santa Rosa Press Democrat.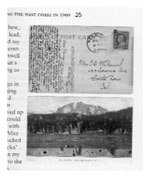 As well as a few old photographs, the book is also illustrated with postcards the boys mailed back. It's truly a tale from another era – today you would just hop on a plane, and post details of your mundane journey on your Facebook page. Back then the boys took 54 days to travel about a thousand miles, along dusty roads and roads made of logs and planks and even roads made of corn-stalks. And sometimes there were no roads at all.

On their journey they encountered bears, snakes, pickpockets and beautiful girls, and when their route took them through a train tunnel they didn't allow for what would happen when a train came along at the same time. Now that made scary reading! As did the meeting with a snake that resulted in a snake-bite.

The author's skill is in catching the right conversational tone, so you feel as if you're hearing the story of this bicycling odyssey straight from the guys who did it. 'The road was straight as a pole, with swells so gentle you couldn't say for sure where up started and down quit.' It's also far more than the story of a marathon bike ride. It's a story of adolescence, of boys growing into men, and of the ups and downs of friendship as well as of the haunting west coast landscape.

If you're planning on cycling the Pacific Coast Highway then Two Wheels North will give you no helpful practical information whatsoever. What it will do is make you long for a time when such a journey was even more of an adventure than it is today.

| | |
| --- | --- |
| Amazon UK Paperback | Amazon USA Paperback |
---
---
Jan 13, 17 09:23 AM

Find out all the groovy things that are happening in San Francisco in 2017 to celebrate the 50th anniversary of the Summer of Love!

Jan 09, 17 09:23 AM

How we built a travel website from nothing, using Site Build It to take care of the things we didn't know,and didn't want to know, leaving us free to write the content and do the traveling!

Jan 09, 17 07:14 AM

Monterey wine country in California has been voted one of the world's best wine travel destinations by Wine Enthusiast magazine, the only California wine region to be included on the list.