Best Los Angeles Restaurants
Zagat Guide to LA and SoCal
If you're trying to find the best Los Angeles restaurants, then in our view the latest Zagat guide is a pretty good place to start. And not just LA - this guide to dining covers Southern California including Orange County, Palm Springs, and Santa Barbara. You don't get the long and lingering reviews of restaurants that you have with some dining guides, but what you get instead are the collected views of over 10,000 regular diners, rating 2,106 places to eat.

Update
This review is of the 2011 guide.
More recent updates are available: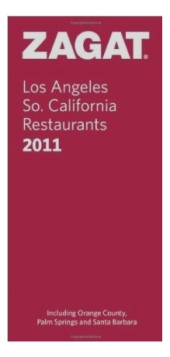 Best Los Angeles Restaurants
What we like about Zagat is that in trying to assess the best Los Angeles restaurants, they don't just stay at the dining high-end. Their Top 20 list of the most popular LA eating spots includes delis and burger places, and even the Cheesecake Factory chain, alongside the likes of Spago and Mélisse. Sure, the list for Top Food is very different from the Most Popular places, but the reviewers - and editors - do take account of the fact that different diners want different things, and you also want different things on different days. Sometimes you just want a pizza - but a good one

The Most Popular Los Angeles Restaurant
And, as it happens, the Most Popular Los Angeles restaurant according to Zagat reviewers is a pizza place: Pizzeria Mozza. It's obviously no ordinary pizza parlor, though. Zagat's reviewers say the whole thing is a 'gastronomic experience' and call their pies 'delectable' and 'better-than-sex'. OK, make mine the Margherita.

Most Popular Santa Barbara Restaurants
This LA guide also covers Southern California, including Santa Barbara, and this is the Zagat choice of the five Most Popular restaurants in Santa Barbara:
La Super-Rica (Mexican)
Downey's (Californian/French)
Ca' Dario (Italian)
Hitching Post (BBQ)
Brophy Bros (Seafood)
Categorising the Best Restaurants
Another appeal to us is the way Zagat lists the best options under different categories - by cuisine, by location, by special features like wine lists or late dining, by views, best service, and also the best bang for the buck. You feel like Mexican? Babita is up there with the same Zagat rating as Spago. Best View? The Saddle Peak Lodge out there on Cold Canyon Road, which also gets rated as one of the two best romantic locations in LA. Best Value? The In-N-Out Burger chain.

Clear and Easy Zagat Guides
Zagat guides are easy to follow, with the restaurants listed alphabetically, first for LA, then Orange County, Palm Springs, and Santa Barbara. Each entry has full contact details, the write-up which consists of snippets from several different reviewers, and finally ratings in four categories: Food, Décor, Service, Cost. It's a really simple approach and for us, it works.

Buying this Los Angeles Restaurants Guide
The Zagat Guide to Los Angeles and Southern California Restaurants 2011 is published by Zagat at $15.95 in the USA, $18.95 in Canada, and £10.99 in the UK. It is available on Amazon USA, Amazon UK, and worldwide.

---
---
Jan 13, 17 09:23 AM

Find out all the groovy things that are happening in San Francisco in 2017 to celebrate the 50th anniversary of the Summer of Love!

Jan 09, 17 09:23 AM

How we built a travel website from nothing, using Site Build It to take care of the things we didn't know,and didn't want to know, leaving us free to write the content and do the traveling!

Jan 09, 17 07:14 AM

Monterey wine country in California has been voted one of the world's best wine travel destinations by Wine Enthusiast magazine, the only California wine region to be included on the list.